---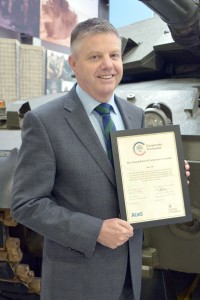 Over 100 businesses and charities in the South West have now signed up to the recently rebranded Armed Forces Covenant (was the Armed Forces Corporate Covenant).
The 100th South West organisation to pledge their support to the Armed Forces community was Dartington Hall in Devon.
Karen Jonas, Sales and Marketing Manager, said; "Dartington Hall is delighted to be supporting the Wessex Reserve Forces' and Cadets' Association and the Armed Forces. Dartington Hall is a Social Enterprise generating revenue to support the charitable work of The Dartington Hall Trust. We deliver the fundamentals of hospitality whilst demonstrating the ethos of The Trust to help develop a more sustainable, just and enriching world.
"We look forward to developing a mutually beneficial relationship with the Wessex Reserve Forces' and Cadets' Association."
The first organisation to sign the Armed Forces Covenant (Corporate Covenant) in the South West after its launch in October 2013 was Merlin Entertainments. Since then, a wide variety of organisations have signed the Covenant, pledging their support to the Armed Forces community.
The Armed Forces Covenant is a promise from the nation, ensuring that those who serve or have served in the Armed Forces, and their families, are treated fairly. This involves working with businesses, local authorities, charities and the public.
Businesses, from sole-trader to multinational, local authorities or charities, who wish to support the Armed Forces community can sign the Covenant and publicly declare their commitments.
Jon Beake, Regional Employer Engagement Director for Wessex Reserve Forces' and Cadets' Association, who is responsible for the regional delivery of the Armed Forces Covenant in the South West, said; "It's fantastic that 100 organisations across the South West have pledged their support by adopting their own Armed Forces Covenants; it's been a pleasure tailoring them to the individual businesses to make them relevant. 
"It is additionally pleasing that Dartington are our 100th South West Covenant as their ethos fits and compliments perfectly.  Dartington's Covenant includes supporting the employment of veterans, Service spouses, Cadets and Reservists and is likely to be rewarded with a Defence Employer Recognition Award in the near future.  I look forward to working with them and other South West businesses in future."
To find out more about how your organisation could benefit from pledging their support to the Armed Forces community contact the Regional Employer Engagement Director, Jon Beake on 01823 250110 or wx-empsp@rfca.mod.uk. To find a list of all those who have signed up to the Armed Forces Covenant visit www.gov.uk.
---