---
Volunteers from NHS Trusts across the South West took part in the South West NHS Military Challenge, organised by 243 Field Hospital and supported by Wessex RFCA.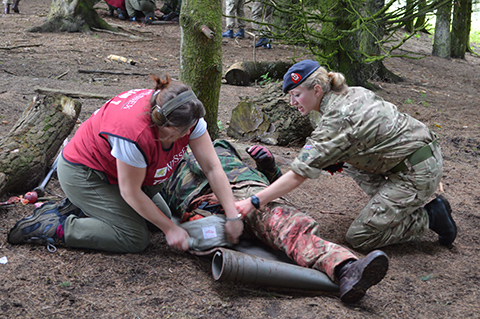 The event, which was attended by over 160 volunteers from 15 NHS Trusts, including; Bournemouth, Gloucestershire, Musgrove Park and Royal Cornwall, took place at Okehampton Camp, Dartmoor.
Regional Employer Engagement Director Jon Beake, from Wessex Reserve Forces' and Cadets' Association, said; "The South West NHS Military Challenge is a tri-Service Reserve event which showcases some of the training and experiences Reservists undertake, with a particular emphasis on those employed within the NHS. 
"The event also provided senior executives with the opportunity to understand the positive benefits that having Reservist employees can bring."
Recruits arrived at the camp on the Friday evening, in time to be briefed and given the equipment that they would need to survive the weekend.
During the weekend the recruits rotated around nine stands, which were run by South West based Reserve units. The stands were designed to challenge the recruits under military conditions, whilst putting to test their medical knowledge and experience.
One stand, run by Reserves from 243 Field Hospital, tested how the volunteers cared for casualties in a simulated battlefield situation. Amputee actors were used in the simulation, which also included blank firing and smoke.
Celestine Weegenaar who works for Yeovil NHS Trust, said about the challenge; "It has been great, really interesting. I wasn't expecting the fact that real amputees would be used. Obviously we weren't really being fired on, but it all made it quite intense".
The winning team came from Salisbury District Hospital, who beat the other 14 teams in seven of the nine challenges. 243 Field Hospital praised the teamwork demonstrated by Salisbury, who raised over £1000 for the hospital's Stars Appeal, a charity which helps to create the best possible care and provide the best equipment for patients.
The weekend event was run purely by South West Reservists from each service, and demonstrated the enthusiasm, capability and skill of those who give up their spare time to carry out training with the Reserves Forces.
Dr Mike Seeley, who is Head of HR at Gloucestershire NHS Trust and Honorary Colonel of 243 Wessex Field Hospital, spoke to Chief Executives from the NHS Trusts about the challenges of employing Reserves.
"As a large NHS Trust, we employ 10 Reservists. It is a myth that Reservists will be deployed regularly. We have had three deployed in the last 10 years."
Alison Diamond, Chief Executive of Northern Devon Healthcare NHS Trust, said; "Things I can really take away from this is how we can work closely together and build a mutually beneficial relationship."
Victoria Gilmartin, an ITU Nurse at the Bristol Royal Infirmary, and a Reservist with 243 Field Hospital in her spare time, said about joining the Reserves; "Just take that leap of faith, because it's worth it. Once you have done your basic training, you can choose what you do."
To find out more about joining the Reserves and Reserve units in your area visit https://www.wessex-rfca.org.uk
Information on support for employers can be found at: http://www.sabre.mod.uk/Employers/The-Mobilisation-process/Financial-assistance
---