---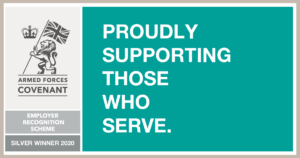 We are delighted to announce that this year, 26 south west employers are to be presented with the Employer Recognition Scheme Silver Award.
The Employer Recognition Scheme Awards continues to grow in strength year on year. To win an award organisations must demonstrate that they have supportive HR policies in place for Veterans, Reserves, Cadet Force Adult Volunteers and Spouses and Partners of those serving in the Armed Forces. 2020 marks the seventh year of the awards scheme. 
The 26 south west employers to win silver in 2020 are;
Audax Global Solutions Ltd
Blue Bee Solutions
Somerset County Council
Top Cover Solutions Limited
Sir Fix-A-Lock Ltd
Salisbury FC Limited
New Leaf Life Design Ltd
Newquay Activity Centre Ltd
Comera Group Limited
Fair Winds Mortgages Limited
Forces To Film Limited
Global ATS Ltd
Hercules Site Services Ltd
The REME Charity
Innogy Renewables UK Limited
Imployable/FourWho Ltd
Devon County Council
The Colleges' Partnership Limited
St Edward's School
Chemring Countermeasures Limited
Allan Webb Ltd
Ruralink Limited
Improving Lives Plymouth
Rina Consulting Defence Ltd
Lifeline Training
Clever Student Lets
Johnny Mercer, Minister for Defence People and Veterans said:
The breadth and diversity of the winners this year shows how business support for the Armed Forces continues to grow no matter the sector, company size or location. I am grateful for the positive attitude and flexible policies these organisations have adopted towards the defence community, which is testament to the fantastic contribution our serving personnel, veterans and their families can make to any organisation. I am delighted that so many companies are supporting our people and that, through this scheme, we can give them the public recognition they deserve.
---