---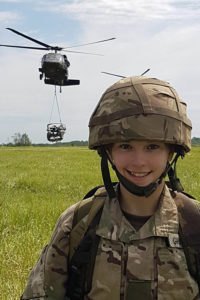 A young Reservist officer with 39 Signal Regiment has returned from an action-packed exchange visit with the US Army National Guard – and to imminent promotion to Lieutenant.
Emily Griffiths was seconded to the 27th Infantry Brigade Combat Team (IBCT) in New York state as part of the Military Reserve Exchange Programme (MREP).
At home, she trains with 43 Signal Squadron, based at Bath Army Reserve Centre, and works in Bristol as a project manager for recruitment company Experis.
The company recently received a Gold Award in the Ministry of Defence's Employer Recognition Scheme.
Emily's American exchange host unit comprises three infantry battalions, a cavalry squadron, an artillery battalion, a brigade special troops battalion and a support battalion, Brigade Special Troops Battalion (BTSB).
She was attached to Bravo Company BSTB, which has platoons specialised in Signals Intelligence and Tactical UAS (unmanned air systems), and immediately deployed with them on their annual training camp at the sprawling Fort Drum, New York County.
Emily got to launch a Shadow unmanned reconnaissance aircraft, qualified on their rifle system on 300-metre ranges and was ranked as 'expert' on the machine gun.
She also took part in a live air assault with artillery – "one of the highlights of the trip." Emily added: "After being loaded on to a Black Hawk helicopter, we picked up an M777 Howitzer and were taken to the drop zone.
"The team then fired six live rounds on to projected targets and I got the chance to pull one of the firing lanyards."
Emily's exchange partner, Sergeant Patrick Kelly, had set up a private tour 'behind closed doors' of the Senate House during a visit to Washington DC, which included a visit to the Space Museum and Lincoln's memorial.
She spent the final morning at Arlington Cemetery and said: "It was both impressive and humbling … and a perfect way to end this amazing experience.
"I would thoroughly encourage anyone to participate in the MREP programme. The opportunities I had were second to none and I have made some life-long friends."
For more information about 39 Signal Regiment go to www.army.mod.uk/signals or www.facebook.com/39SignalRegiment.
---