---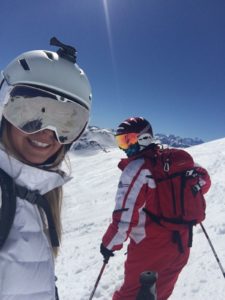 This March 44 Reserves from 6 Rifles had the opportunity to take part in Exercise Frosted Wyvern, an intense alpine ski expedition which took place in La Tania, in the French Alps.
Reserves took part in the week long course, which was designed to teach first-timers new skills, and develop the skills of those who have some previous experience of skiing.
The course was designed to provide the training required for all attendees to achieve either Joint Service Ski Foundation Level One, Two or Three (SF1/2/3). All students passed their respective courses.
SF1 is for novice skiers and is a basic introduction to skiing and equipment.
SF2 is for intermediate skiers and will further advance previous training, through developing intermediate Alpine Skiing skills with an emphasis on off-piste techniques
SF3 is undertaken only by experienced skiers. The majority of this course is spent off-piste ski touring, learning about mountain hazards, navigation and weather interpretation.
Skiing is one of the many adventurous training activities which are offered to Reserves. Adventurous activities such skiing helps to develop essential skills such as leadership, teamwork and confidence.
The expedition was funded in part by a contribution from Wessex Reserve Forces' and Cadets' Association (RFCA). Wessex RFCA helps to fund a range of projects and activities for Reserves and Cadets across the region.
6 Rifles are a Reserve Infantry Battalion who are based in Exeter, with units across the South West region, including Dorchester, Bristol and Truro. 
To find out more about joining the Army Reserves in your area, visit www.army.mod.uk.
---