---
The Plymouth and Cornwall Wing of the RAF Air Cadets has gathered en masse to celebrate the founding of the Air Training Corps 75 years ago.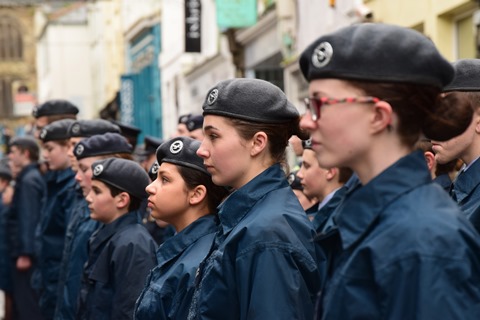 350 Air Cadets and volunteer staff travelled from Plymouth, West Devon, the South Hams and all across Cornwall to attend the 75th Anniversary Parade and Service at Falmouth's Church of King Charles the Martyr. 
The Cadets and staff were joined by former cadets and staff as well as parents.  The Guests included:  Group Captain Mike Trace OBE, Deputy Lieutenant of Cornwall,  Air Commodore Gary Tunnicliffe,  Ministry of Defence's Head of Remuneration (and former Plymouth Air Cadet), Councillor John Body, Mayor of Falmouth and Councillor Mary May, Vice Chair of Cornwall Council.
The service was led by Rev Stephen Tudgey and the address was given by the Wing's Chaplain Rev Prebendary Brian Anderson.  After the service the cadets marched to Events Square where Group Captain Trace took the salute. 
A reception was held at the Church Hall for all those who had been involved, the fare was of a truly West Country nature; the Wing had purchased 500 pasties from Rowe's Cornish Bakers.   Rowe's also made a special pasty for the event with the number 75 in pastry on a giant pasty.
Wing Commander Francis Reis, Officer Commanding said: 'Today has been a truly spectacular effort, especially considering that the parade started in hail and rain.  Not one cadet complained.  Thanks must also go to Falmouth Town Council and the Parish Church of King Charles the Martyr for making us so welcome.  I am proud and honoured to command this Wing".
Currently, Plymouth and Cornwall Wing consists of 23 units, 730 cadets and 190 volunteer staff.  One of the key messages in this 75th year is the need for more volunteers, in a wide variety of roles, across the country to keep these units open to continue to give young people amazing opportunities. If you are aged 20 or over and feel you can help inspire the next generation please contact the Wing Headquarters on 01637 857419 or visit www.raf.mod.uk/aircadets.  Previous military or aviation experience is not required.
---