---
As part of the Army Cadet Force's Community Week Cadets from Keynsham Detachment, Bristol ACF, under the leadership of Second Lieutenant Zada Sloan, are undertaking
a community project where the cadets are talking to small groups of older people from across Bath and North East Somerset sharing memories and stories about life for their families during the First World War. The project is part of Bath and North East Somerset Council's wider 2014-2018 commemoration of the centenary of World War One (www.bathnes.gov.uk/WW1centenary).
As time passes it will become harder to collect and preserve these important local memories. Therefore this project is an ideal opportunity to bring together small groups of senior residents with small groups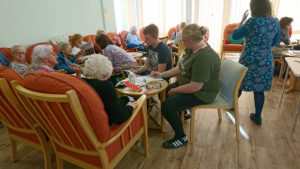 of young people (15-21 year olds) in Bath, Keynsham, Radstock and Midsomer Norton. With the support of a facilitator and trained volunteers the young people have interviewed the older people about the experiences of their parents/grandparents/family members during World War One (1914-1918). The resulting stories and memories will be captured in an illustrated commemorative book and will be adapted to produce online learning resources for use by 7-11 year olds in local schools. The interview recordings and transcriptions will be deposited at Bath Record Office to be preserved for the future.
---