---
Simon Reeves from CVQO recently interviewed Lieutenant Caroline Scott, Detachment Commander, Wimborne Detachment, Dorset ACF, who has seen a number of benefits from CVQO-led qualifications and the opportunities they open up for her cadets.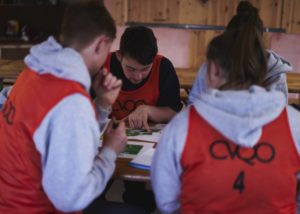 Her detachment comprises around 35 cadets and she has seen a 50% take-up in CVQO's BTEC Level 2 and ILM qualifications.
What would you say the main benefits of a CVQO-led BTEC Level 2 are?
"In my opinion the main benefit of these qualifications is that they add a different dimension to a cadet's list of qualifications which often merely involve a list of fairly generic subjects.
"Most employers will have a pile of CVs to sieve through for interviews and it's having qualifications involving 'teamwork' and 'leadership' that can really help a cadet stand out from the crowd. "
Can you think of any specific examples where a cadet has used the qualification to assist their future plans? (e.g. employment, further education)
"In 2017 three of our cadets who had undertaken a CVQO-led BTEC Level 2 in Teamwork and Personal Development in the Community joined the military and one went off to university with a view to going onto Sandhurst.
"The qualification they undertook dealt with many of the qualities that the British Army look for in a serving soldier. All four of them felt that the addition of the qualification to their CV enhanced their employability and their chance of being accepted into their respective roles."
What would you say to a unit who is interested in taking up the qualification on behalf of their cadets?
"Many children learn things in different ways and at varying speeds. The qualifications provided by CVQO are engaging and help the cadets to relate what they are learning about to everyday life, thus making it much easier to understand. In the long run because it has been relatable I feel it will be much more useable in their future lives and careers."
---