---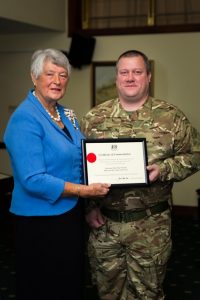 A 41-year-old Gloucester company director has been honoured for his outstanding service to the Army Cadet Force with the award of the Lord-Lieutenant of Gloucestershire's Certificate for Meritorious Service.
The presentation to Second Lieutenant John-Paul Newman took place during ceremonies at the Officers' Mess, Allied Rapid Reaction Corps Headquarters, Imjin Barracks, Innsworth.
He recently became second-in-command of Cheltenham-based A Company and, rather appropriately, his wife, Lindsey, holds a similar position with C Company in Gloucester. They met through the ACF and live in Innsworth with their two young children.
John-Paul was an Army cadet as a youngster and then served in the Territorial Army (now Army Reserve) for three years.
"I left the TA because it didn't fit in with the shift work I was doing at the time," he said. "Then I met one of my old ACF instructors who encouraged me to serve with the cadets as an adult instructor – and it's something I have really enjoyed for the past 18 years.
"There's great satisfaction in seeing youngsters who start as basic recruits and then achieve so much before eventually leaving us as confident, four-star cadets. This may be the PlayStation era, but there are many boys and girls who are prepared to work hard and really want to learn once they get involved in the ACF."
John-Paul, a director of Gloucester-based security maintenance company NSGL Ltd, has led many varied activities in Gloucestershire ACF, ranging from personal development courses, the Duke of Edinburgh Award scheme and charity events to organising training weekends and annual camps.
The Certificate for Meritorious Service was also awarded to:
Colour Sergeant Sean Pepper, of Bristol, Quartermaster's Permanent Staff Instructor with 6 Rifles (Army Reserve)
Staff Instructor Ian Bush, of Stroud Platoon, Gloucestershire ACF.
Major Richard Penny, contingent commander of Cheltenham College's Combined Cadet Force
Adult Under Officer Andrew Wheatstone, of Cheltenham, stores assistant and county expeditions officer with Gloucestershire ACF
Lt-Colonel John Osborn, of Leicester, Deputy Commandant of Gloucestershire ACF
Group Captain Simon Harsley, of Bristol, chairman of Bristol & Gloucestershire Wing, Air Training Corps
Special Police Sergeants Richard Blythe, Alex Febery and Helen Pritchard, all of the Gloucestershire Constabulary in Gloucester.
---