---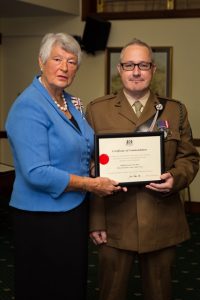 A 46-year-old teaching assistant from Stroud has been honoured for his outstanding service to the Army Cadet Force with the award of the Lord-Lieutenant of Gloucestershire's Certificate for Meritorious Service.
The presentation to Staff Instructor Ian Bush took place during ceremonies at the Officers' Mess, Allied Rapid Reaction Corps Headquarters, Imjin Barracks, Innsworth.
Ian served in the Regular Army for five years, mainly with the 1st Gloucestershire Regiment.
It was a while later, in 2005, that he saw an advertisement for volunteers willing to act as ACF instructors. "I decided to give it a go and it was the best thing I have ever done," Ian explained.
Ian specialises in teaching field craft and marksmanship – but also helps out with a wide range of outdoor and adventurous activities, including archery and rock climbing.
"I like to put a bit of fire and enthusiasm into my lessons and to enjoy a bit of a joke," he adds. "We get youngsters in the unit from all sorts of backgrounds but they all react positively, especially when there is a fun element involved."
The Certificate for Meritorious Service is also awarded to:
2nd Lieutenant John-Paul Newman, of Innsworth, adult instructor and Company Training Support officer with Gloucestershire ACF
Colour Sergeant Sean Pepper, of Bristol, Quartermaster's permanent staff instructor with 6 Rifles (Army Reserve)
Major Richard Penny, contingent commander of Cheltenham College's Combined Cadet Force
Adult Under Officer Andrew Wheatstone, of Cheltenham, stores assistant and county expeditions officer with Gloucestershire ACF
Lt-Colonel John Osborn, of Leicester, Deputy Commandant of Gloucestershire ACF
Group Captain Simon Harsley, of Bristol, chairman of Bristol & Gloucestershire Wing, Air Training Corps
Special Police Sergeants Richard Blythe, Alex Febery and Helen Pritchard, all of the Gloucestershire Constabulary in Gloucester.
---