---
Air Cadets from across Devon and Somerset were joined by the Commanding Officer of the Air Training Corps, Air Commodore Dawn McCafferty, at a church service and a parade through Exeter at the weekend to mark the 76th Anniversary of the Battle of Britain.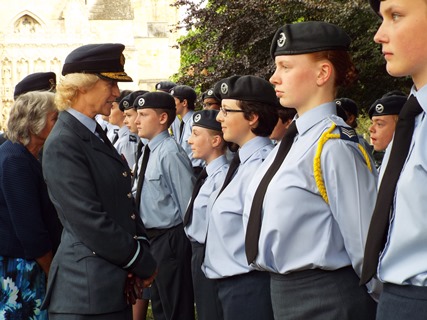 Battle of Britain Day is the 15 September, but parades are usually held on the closest Sunday.  Some 250 air cadets led by the Wing band paraded through the town with their Squadron banners proudly on display.
Air Commodore Dawn McCafferty is usually stationed at Headquarters Air Cadets at RAF Cranwell in Lincolnshire.  She made a special visit to Devon & Somerset Wing to mark this year's commemoration.
Air Commodore McCafferty had a 23 year career with the RAF serving in many roles including setting up and leading the RAF Families Federation which launched in 2007 supporting serving RAF personnel and their families.  She now has the role of Commandant Air Cadets responsible for the Air Cadet Organisation which consists of 900 squadrons and approximately 40,000 cadets led by volunteer staff.
The Battle of Britain was fought by the RAF in the skies over Great Britain with heavy losses on both sides.  The Prime Minister, Winston Churchill, later described that time as "Their Finest Hour". 
During World War 2, the Air Training Corps provided large numbers of recruits for the RAF, but is now one of the country's largest national youth organisations.
Marching through Exeter city centre following the Devon and Somerset Wing band is a yearly act of remembrance for the cadets and their staff.
Squadron Leader Dave Rolfe said, "The Air Training Corps has close links to the Royal Air Force.  We will always remember the sacrifices made by the RAF, Commonwealth Air Forces and Allied Nations in the defence of our country."
To find out more about the Air Cadets in Devon and Somerset, and joining as a Cadet or Adult Volunteer, visit; atcdevsom.org.uk.
---