---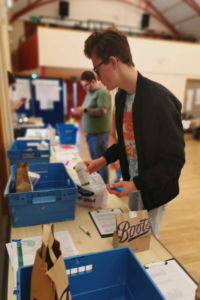 When a back strain forced Andi Grief-Page to take time off from his job in the ambulance service in March, just when the COVID-19 crisis broke, he looked for a volunteering opportunity in his home town of Chard.
With his health service background, he offered to help coordinate prescription deliveries to older and vulnerable people in the community, through the Chard COVID Support Group organised by the town council.
Andi is also Chard Platoon Commander in Somerset Army Cadet Force so he was delighted to see some familiar names among those who had also volunteered for the support group – a group of his Army Cadets.
Aged 17 to 14, they were Joe Bartlett, Kane Roker, Melissa Salisbury, Tazmin Page, Josh Salisbury, Pete Burgess, Sam Peacock, Oliver Taylor and Max Taylor.
He said: "Of course, I knew them and their parents and that I could trust them to do a really good job. This was all outside of the ACF so there were no uniforms, ranks or formalities."
He set up a logistics operation in Chard Guildhall and organised the delivery teams into three routes around the town, after first seeking their parents' permission.
Others handed out leaflets promoting the prescription delivery service which could also make the job of the police easier by helping to reduce queueing outside pharmacies.
Andi added: "We were delivering 150 prescriptions a day between 9am and 9.30pm. With my health service training, I could ensure all medications were ones that were needed urgently, such as for diabetes and heart conditions.
"I'm back at work now but I pop in regularly to see how they are getting on. They are not volunteering as cadets but the community-minded spirit of the Army Cadets is certainly there to see."
All uniformed cadet activities have been suspended during the lockdown, although community work counts towards the Duke of Edinburgh's award scheme, which many cadets are enrolled in.
For more information about Somerset Army Cadets go to https://armycadets.com/county/somerset-acf/
---