---
SSAFA, the Armed Forces charity, provides vital support each year to 55,000 serving men and women from all three services as well as to veterans, families – and Reservists.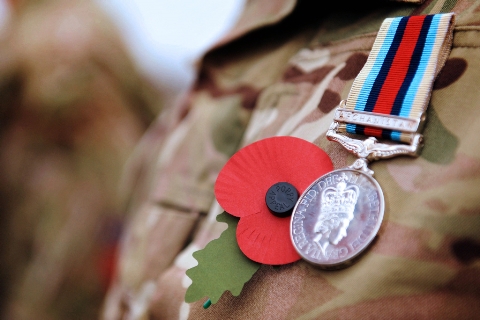 It's important to stress the Reservist element because, as Robin Chambers, SSAFA Devon Chairman, declares, "many people still don't realise that they are very much part of the service family."
Truth is that, if anything, existing support services for Reservists will need to increase, owing to a combination of factors. They include the legacy of the Iraq and Afghanistan campaigns, increased Reserve Forces support for full-time personnel under the Future Reserves 2020 strategy and the challenging financial environment.
"There is therefore a requirement for better awareness and education for employers, schools, health professionals and police about the potential health and wellbeing impacts of Reservist service," says Robin.
"SSAFA recognises that pressures on reservists are different. They have to be back to civilian work quicker and don't have the same unit support. Their employers will not always understand how or why their employee has changed or is not the same person they used to know.
"Add in the fact that their families may not understand the military and won't know who to turn to for support and it is easy for Reservists to disappear off the radar."
In the South West, there are approximately 39,000 serving personnel and 180,000 veterans. The Reservist population is unknown but will be particularly high in Devon, home to 6 RIFLES, 243 (Wessex) Field Hospital, the Royal Wessex Yeomanry and other Army Reserve units, not to mention the Royal Naval Reserve (HMS VIVID) and Royal Marines Reserve.
"Our Reservists give up their spare time to serve their country. They often lead busy lives, balancing the needs of a civilian career, family commitments and their military service. Whilst this is very rewarding in many respects, we must remember that they deserve similar levels of support as their full-time service colleagues. Service charities, such as SSAFA, do a tremendous job, reaching out into the community to identify and help Reservists. This can be a difficult task, especially when the Reservist has left the Service"
SSAFA is an all-volunteer organisation, apart from a small central office team in London. In Devon, there are 75 volunteers, of whom about 70 are trained caseworkers.
Through working with charities and appealing for their financial support for particular cases, they have raised £550,000 in the past year alone.
The result: 550 people, young and old, have been able to begin rebuilding their lives through provision of non-judgmental, practical, financial and emotional support, often involving issues such as health, housing and welfare.
A recent case involved a distraught wife struggling to cope with a family breakdown due to her husband's Post Traumatic Stress Disorder (PTSD), several years after he left the services.
SSAFA assisted by resolving rent arrears, providing food vouchers, swimming lessons for the children, and counselling for the wife and one of her children.
Robin explains: "The caseworker's skill is being able to see past the initial request for assistance, as quite often this hides more deep-rooted problems, and then eliciting all the vital information during interview with the client – which leads to a convincing report that helps persuade other organisations to assist."
SSAFA, formerly the Soldiers, Sailors, Airmen and Families Association, is the UK's oldest national service charity, having supported the military family through every campaign since 1885. Its range of specialist services include:

▪ support groups helping families come to terms with bereavement or a life-changing illness or injury.
▪ mentors helping the transition of wounded, injured and sick personnel back into civilian life.
▪ Forcesline, a confidential helpline that received 21,500 calls last year.
▪ an adoption agency placing children with service families.
▪ short breaks for service children with an additional need or disability as well as their siblings and young carers.
▪ short-stay homes for serving personnel experiencing relationship difficulties.
▪ Prison In Reach for former service personnel in custody.
Robin adds: "We believe that the commitment of our Forces and their families deserves our lifelong support. We understand that time in the Forces can have an impact, now and in the future."
SSAFA is always keen to recruit more volunteers. If you can help – or need SSAFA's assistance – contact https://www.ssafa.org.uk/about-us/contact-us, which will provide a direct link to your local branch. The helpline is 0800 731 4880.
---