---
Liverpool has been named as the official host of the national event for Armed Forces Day in 2017.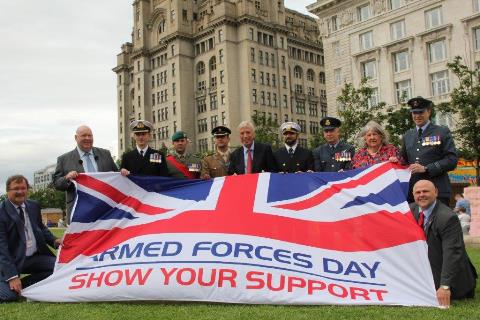 Following a bidding process, the Ministry of Defence has selected Liverpool to stage the national celebrations which will take place in the city on 24 June 2017.
It will coincide with the International Mersey River Festival and activities will take place across the weekend. Plans will now begin to be developed which will see a colourful spectacle full of speed and excitement take over the city centre streets, while at the same time showcasing the breadth of skills and innovation which are at the heart of the Armed Forces.
The national celebrations are a chance for the public to show their support and appreciation for the men and women who make up the Armed Forces community, from current serving troops to Service families, veterans and cadets.
Mayor of Liverpool Joe Anderson said: 'We do scale, spectacle and storytelling better than any other UK city, and I am delighted that our reputation for staging events has once again received national recognition, and as a result we have been selected as the location to host this prestigious celebration.
'This day gives us the chance to recognise the role of the Armed Forces and thank all those men and women who have dedicated their lives to protecting our country.'
Earl Howe, the Minister of State for Defence, officially presented the National Armed Forces flag to the Mayor. He said: 'Liverpool has long and deep links to the Armed Forces, particularly the Royal Navy, and is well-known for hosting spectacular celebrations; we're delighted to select it for Armed Forces Day 2017, building on the success of this year's celebration in Cleethorpes.
'The city's national event will be a fantastic focal point for the UK to come together to acknowledge the hard work and sacrifice of those that serve.'
Maj Jon Price, 156 Regt RLC, who has been involved in organising the city's event, said: 'The support for all three Services hoes back generations and it could be said that it must be in the DNA, as almost every family in the Liverpool City Region knows someone who has served, or is currently serving, in the Forces and that the region continues to provide around 20% of recruits.
'For Liverpool to be awarded the title of lead city and host of the National Armed Forces Day is a great honour and I'm sure it will be a great success given its experience and expertise in holding major events.'
For more information visit www.armedforcesday.org.uk
---