---
The Silver Bugles Band of Somerset Army Cadet Force is taking part in Sounding Retreat with the Massed Bands & Bugle of The Rifles at Horse Guards Parade in London on 1-2 June.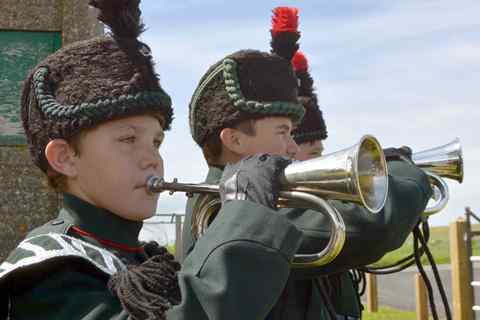 The Silver Bugles are used to being in the limelight, having played for Her Majesty The Queen and other royal visitors, performed at the Swift & Bold Concert at the Royal Albert Hall, at the Royal Bath and West show and other events, big and small, throughout the county and further afield.
The Band, drawn from detachments at Weston-super-Mare and Frome, currently has 45 cadets aged between 12 and 18, and seven adult instructors.
The majority of band members arrive with little or no musical background or knowledge but, showing self-discipline and tenacity, they learn very quickly to produce high quality music.
All this is achieved while marching in complex sequences, often at 140 paces per minute, reflecting their Light Infantry traditions. They all have the opportunity to gain a nationally recognised qualification (BTEC Music) to add to their CVs.  
All this must be accomplished in their spare time, since they still have to take part in the other training expected of every cadet.
Somerset Army Cadets, which is affiliated to The Rifles, has approximately 200 adult volunteers and some 650 teenagers, based in 33 centres throughout the county.
While the Army Cadet Force is sponsored by the Ministry of Defence for some of its training, these funds cannot be spent on band equipment or support. The Silver Bugles therefore rely on charitable funds for its instruments, uniforms, equipment and dedicated transport.
Tickets for Sounding Retreat cost £10 each or £7.50 when you buy a block of four. The event begins at 8pm. Tickets can be bought from:
http://www.ticketmaster.co.uk/The-Rifles-Sounding-Retreat-tickets/artist/2191129?tm_link=artist_artistvenue_module
---