---
The Army Reserve is looking to recruit musicians for a new Cornwall-based detachment of the Salamanca Band and Bugles of The Rifles.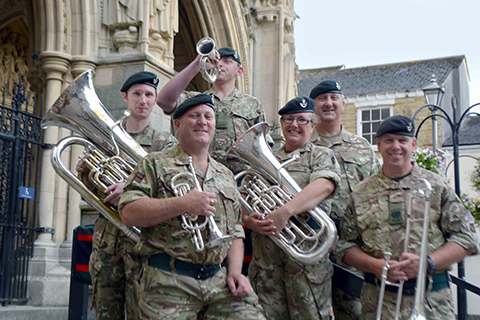 The band, which travels all over the world and has played at the Albert Hall and Horse Guards Parade, is holding an Open Weekend at Truro Army Reserve Centre on 3-4 September.
With a wide-ranging repertoire of military, classical, film and musicals, 'big band', rock and pop music, there are opportunities for people of Grade 5 standard, who can play woodwind, brass, percussion or bugle.
The Salamanca Band is in great demand for functions and ceremonial events, in addition to its military music commitments. In recent years they have travelled to Dubai, Saudi Arabia, Georgia, Canada, France and Germany. Their next trips are to Gibraltar and Cyprus later this year.
Not just a marching band, they offer within their ranks a big band, concert band, jazz band, a pop group and smaller woodwind and brass ensembles.
Band Sergeant Major Sandra Davies, who lives in Redruth and works for the National Trust, has been an Army musician since joining the Women's Royal Army Corps Staff Band in 1980. She became a Reservist after leaving the Regular Army in 1991.
Sandra said: "There is a minimum of basic training which recognises that members of the Salamanca Band are being recruited as musicians rather than combat soldiers. Yet there are the same opportunities for adventurous training, such as sailing, skiing and mountain trekking.
"There's overseas travel and we play in world-famous venues like the Albert Hall. We're not offering just one genre of music. We play all kinds, from soul to big band. Military marches are part of our job too, of course. To be paid for it is a bonus!
Sandra started playing the euphonium at Penryn School and joined the Mount Charles Youth/Senior Band as a 16-year-old, also becoming a member of the Cornwall Youth Brass Band.
She added: "We're not looking to take people away from their local band. This is just another opportunity to enjoy their music at another level – and to travel."
The commitment is 27 days a year and recruits are paid for the time they spend rehearsing, along with travel expenses. They receive £1,000 on completing Phase 1 training and the same again on passing Phase 2. Service with the Army Reserve is now pensionable, with holiday pay.
The Band and Bugles has its headquarters at Wyvern Barracks in Exeter but the Cornwall detachment will also be rehearsing in Truro every Wednesday evening (7.30 – 9.30pm) and on certain weekends. Enlistment is through an audition. Call 07795 284083 for more information.
---