---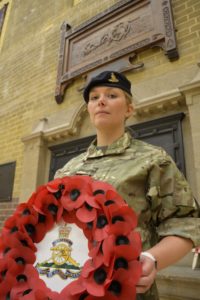 Bristol Army Reservist Hannah Wolsey will join heads of state, senior politicians, the Archbishop of Canterbury and 10,000 others at the Thiepval Memorial on 1 July to pay tribute to those who fell at the Battle of the Somme exactly 100 years before.
Hannah, a 29-year-old Lance-Bombardier who trains with 266 (Gloucestershire Volunteer Artillery) Battery based at Whiteladies Road Army Reserve Centre, will lay a wreath on behalf of her unit.
266 Battery is the only Reserve unit in this region with a direct link to the start of the Somme Offensive in which there were 57,000 British and Commonwealth casualties on the first day, including nearly 19,000 killed.
The Gloucestershire Volunteer Artillery was in action from 24 June, laying a barrage on the German lines, and maintaining the bombardment for seven days, until minutes before infantry 'went over the top.'
Tickets for the televised event at the Thiepval Memorial, which is being broadcast live on BBC1 and French TV, were available by ballot only. Hannah applied the minute the ballot opened last autumn and secured two, for her and her father, who spent 30 years in the Army.
Hannah, a Ministry of Defence employee, has served with 266 Battery, 104 Regiment, since 2012 and is trained to pilot mini-UAVs in a reconnaissance role on behalf of the Royal Artillery.
She said: "I've had an interest in the First World War since I was very young. I've been on a few battlefield tours with my school and with the Officer Training Corps at university.
"In 2011 I went over with my father to Ypres and down to the Somme. My boyfriend and I went back in 2014 and stood on Christmas Day in the turnip fields near Ploegsteert where they played football 100 years before."
It is only recently that she became aware of how closely involved her own unit was in the Battle of the Somme.
She added: "It's really important that I'm learning more about the history of 266 Battery, what we contributed on those days leading up to the Battle of the Somme.
"I wanted to go with something that we could put down on that memorial and say: 'This is for those men who died.' It's important that we keep this piece of history."
To learn more about 266 Battery, call 0117 973 3801.
For general information about being an Army Reservist with 104 Regiment, Royal Artillery, visit http://www.army.mod.uk/artillery/regiments/24684.aspx or call 0345 600 8080.
---