---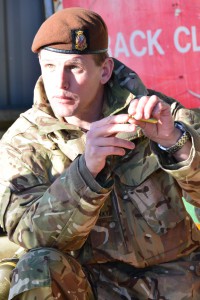 Seven years ago, Ed Hodges, then a Captain serving with the Kings Royal Hussars in Basra, Iraq, took a photograph that inspired one of the most iconic images of the age: The Help for Heroes logo, with its view in silhouette of a soldier on a stretcher giving an optimistic thumbs-up.
Ed, now 34, left the Regular Army in September 2013. The banking world and a future in London was very much a career option. Instead, he opted for a move to the West Country.
So he joined the Army Reserve at Cirencester, found a home near Bath and launched a business in which "helping the heroes" remains a vital ingredient.
Joining Forces Training is based in the heart of Bristol at Easton Community Centre. It's run by ex-service personnel and provides training through government grants aimed at arming the unemployed and ex-offenders with skills to enter the job market.
At the outset, Ed also liaised with the Probation Service to set up a programme where ex-service personnel who end up behind bars are literally met on release at the prison gate and given support. "It makes a difference, of course, that with our backgrounds we speak their language," he says.
Since then, Joining Forces has expanded, recently winning a contract to deliver the National Citizen Service (NCS) Scheme in Bath & North East Somerset, involving courses to help young people build skills for work and life.
"Starting from scratch has not been straightforward by any means," Ed admits. "I had no knowledge, for example, of how the Criminal Justice System works or that it could be a complicated and lengthy business applying for some of the many sources of government funding. But I believe now that we have proved a business model in Bristol which can be developed by us in other parts of the country."
So what about that photo, constantly displayed in the media, at sports stadiums, on car stickers and which has been gloriously reproduced in bronze statues at the Defence Medical Rehabilitation Centre, Headley Court, Surrey, and at Tedworth House Recovery Centre, Tidworth, Wiltshire.
Ed reveals that it was taken at 5.30am before Basra's July temperatures soared to 50 degrees-plus – and was staged.
At the time, ex-soldier Bryn Parry and his wife Emma were in the process of co-founding Help for Heroes. They knew Ed and asked if he could provide a memorable picture to boost their initiative. "My first attempts were no good. The background wasn't right. So we put the smallest chap we could find on a stretcher and got two of our biggest guys to carry it and run backwards and forwards while I snapped away.
"The next thing I knew it was on the front page of The Sun . . . and in The Sun again the next day."
Help for Heroes, which has now raised in excess of £140 million for wounded servicemen and women, is very much a family affair for Ed. His wife, Kitty Dimbleby, daughter of writer and broadcaster Jonathan Dimbleby and the author and columnist Bel Mooney, heads up the organisation's editorial team while he works for the Help for Heroes Pathfinder Programme, which helps veterans back into work.
Life is hectic. He and Kitty have a two-year-old daughter, Chloe. And as Captain Hodges, a Troop Leader in the Royal Wessex Yeomanry's C Squadron at Somerford Road in Cirencester, there are other demands – not least, a recent fortnight on live-fire exercises in the Challenger 2 tank on Lulworth Ranges, Dorset.
For Ed, this is pure enjoyment. "I joined the Regular Army to be a tank commander but towards the end found myself more or less tied to a desk at Warminster," he said. "So, finally, after several years, I'm back in charge of 12 blokes and doing the job I really love."
Ed's Army career included three tours in Iraq as well as an Afghanistan deployment, plus periods in Canada and South Africa. He was brought up in an Army family and was in the Combined Cadet Force at Ampleforth College, Yorkshire, before moving to Exeter University and joining its Officer Training Corps – "so I have been 'behind the wire' for much of my life."
The Army, he believes, gave him the ideal professional preparation for his current business role. "As an officer, you are dealing with young soldiers who may have fairly low-level educational backgrounds or are from broken homes. We train them to become well-rounded individuals, with communication and employment skills and an ability to solve problems.
"With many of the people I meet now, it's not a lot different. In broader terms, I always liked the idea of starting a project which is socially orientated and which, in effect, gives something back to society."
Back in 2007, Ed, the amateur photographer, provided something remarkable – albeit with no idea of the extent to which a single picture (he gave the copyright to Help for Heroes) could have such an impact. He adds: "Seeing the image everywhere makes me feel really proud – not so much of the photograph itself but of everyone involved in making the organisation such a massive success."
---