---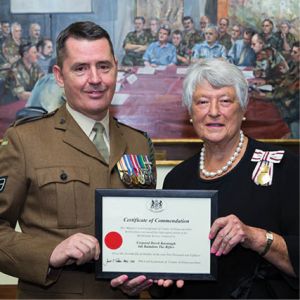 A production manager from Cheltenham has been awarded the Certificate of Meritorious Service for 37 years' outstanding service as a light infantry Reservist with 6 Rifles in Gloucester.
Corporal Derek Kavanagh, 55, displayed leadership and courage on more than one occasion when mobilised on Operation Telic to Iraq in 2004.
In particular, he was singled out by his OC (Officer Commanding) for his actions during a firefight in Basra where his grit, determination and professionalism came to the fore.
"We walked into an RPG and small arms ambush one Saturday morning after the Mahdi Army took over a police checkpoint," Derek recalled. "We then had to get ourselves out. Luckily, we all got through."
Her Majesty's Lord Lieutenant of Gloucestershire, Dame Janet Trotter DBE, presented Derek with his Certificate during ceremonies at the Allied Rapid Reaction Corps Headquarters, Imjin Barracks, Innsworth. It was one of her last duties before handing over the Lieutenancy after eight years in the role.
Derek, who will be bowing out of the Reserves next year after a one-year extension to his service, said: "It's given me the opportunity to do things I'd never have done.
"I found out a lot about myself – what I can and can't do. It's also been a great leveller, because it doesn't matter what background you come from when you are out in the field or on exercise.
"I've gone on rock climbing courses with the Army, paragliding, parachuting, scuba diving and sailed in the Caribbean on an ocean-going yacht.
"When my family were young, Reserve service was a welcome source of extra income. I got all my driving licences with the Army, right up to HGV Class 1 – and got paid to do it."
Derek's duties with A Company, 6 Rifles, at the Army Reserve Centre in Eastern Avenue now within the Company Quartermaster's stores team. With his knowledge and operational experience, he has become a role model for all and junior non-commissioned officers benefit especially from his mentoring and advice.
The citation for his award states: "A Company is a stronger unit for all the hard work Corporal Kavanagh has contributed during his time… He has continuously performed to the highest of standards, well above what is expected of a junior NCO."
---