---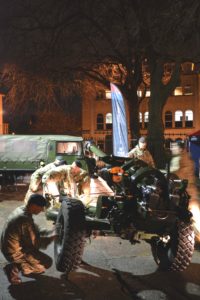 Army Reservists in Bristol have been reunited with the 105mm light gun of the Royal Artillery as they look forward to resuming a very familiar role.
For the last three years, members of 266 (Gloucestershire Volunteer Artillery) Battery based at Whiteladies Road Army Reserve Centre, have been in a reconnaissance role, equipped with a miniature unmanned aircraft system (MUAS) called the Desert Hawk 3.
Under a reorganisation of the Army announced before Christmas, 266 Battery's parent Reserve unit, 104 Regiment, will be equipped with the 105mm light gun.
Each gun is operated by a crew of six. With a range of 10 miles, it is a mainstay of the Royal Artillery, used by parachute and commando field artillery regiments and able to be towed by a 4×4 vehicle or slung under Chinook and Puma helicopters.
Prospective recruits were introduced to the light gun during an Open Evening at the Artillery Grounds, 266 Battery's home for more than 150 years. The unit operated in a light gun role for nearly 20 years up to 2013.
Major James Southall, an ex-Regular who has been 266 Battery Commander since June last year, said: "The Army decided it needed more Reservists as close support artillery so here in 266 Battery there is huge excitement.
"Most of the Battery are already trained on the light gun and we are pretty well manned. What I have noticed since the announcement is a real buzz around the place and enthusiasm for deploying on exercises has increased dramatically."
104 Regiment will convert to light gun during the Regiment's annual deployment exercise in September. 266 Battery also has a detachment, 289 Troop, based at the Citadel in Plymouth.
Soldiering with the light gun is not just for the boys, either. Females have been able to perform all roles in the Gunners for well over a decade.
Major Southall added: "There were significant numbers of females in all the Regular regiments in which I served. They can perform any role – serving the guns, working the observation posts, logistics. It comes down to personal preference and physical fitness.
"And that physical fitness is not unattainable by any means. There are plenty of females who perfectly capable of performing all the roles. It depends on their motivation."
For more information about 266 Battery call 01179 734 895.
---