---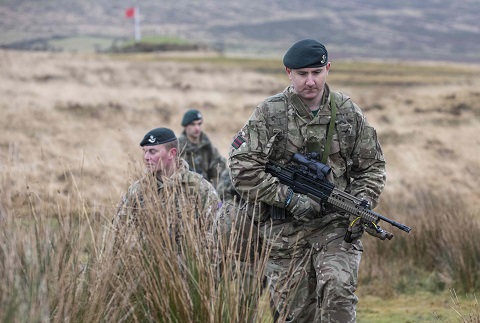 Army Reservists from Cornwall are being mobilised for a deployment to Cyprus later this year by 6th Battalion The Rifles.
Op Tosca is the British contribution to the longstanding United Nations' peacekeeping mission in Cyprus.
There are 27 places earmarked for members of D Company, which has its headquarters at Truro Army Reserve Centre, with a detachment of at Millbay Park, Plymouth.
The rest of a 180-strong deployment will be assembled from other units of 6 Rifles across the South West, including the battalion HQ at Wyvern Barracks in Exeter.
All the Companies gathered recently at the Willsworthy Ranges on Dartmoor for a 6 Rifles shooting competition.
Among those taking part were Rifleman Andrew Mitchell, a 33-year-old Cornwall Council project manager who lives in Redruth. He comes from a military family – both his father and grandfather were in the RAF.
Sam Howe, a 31-year-old builder from Newquay, is a newer recruit, waiting to undertake his Phase 2 infantry training. "I've not been in the Reserves very long but it's great fun," he said.
The commander of D Company is Major Warren Marginson, 36, a former Regular soldier who is manager of Barclays Bank in Truro.
Only six months ago he took a group of Reservists to Uzbekistan to provide advice and training to their army ahead of a patrolling competition here in the UK.
He said: "We offer a chance to do something exciting and different in your spare time – camaraderie and meeting like-minded people. Having fun, going to new places, as well as short-term deployments whether in the UK or overseas."
Having experienced these kinds of opportunities, a number of his Reservists – a dozen per year on average – opt to join the Regulars.
"You could say we are victims of our own success in recruiting," he added. "Individuals will come to us and enjoy being in the Reserves. After a year or so, if their civilian career isn't going anywhere, they might want to be a Regular soldier.
"It's a positive outflow in that respect and we see around one Reservist a month transferring in that way. It's a simple process.
"But it means we're having to swim fast to keep our numbers up so we have room for recruits in Cornwall. Everyone is welcome – male or female. These are opportunities to do something for yourself and also for the greater good."
D Company, which is slightly smaller than its counterparts in Devon, Dorset and Gloucestershire, has a specialist 'sustained fire' role. That includes training on the General Purpose Machine Gun (GPMG), targeting pre-determined positions.
"We're proud to have the guns speciality," he said. "And the GPMG is a great weapon that has stood the test of time."
While Op Tosca is a serious operational commitment, 6 Rifles does offer other opportunities for travel. The battalion organised a battlefield tour to Monte Cassino in Italy recently and there's a diving expedition to Sardinia later this year.
To find out more about D Company 6 Rifles and the Army Reserve call 01872 272010 ext 2010 or go to armyjobs@The-Rifles.co.uk .
---