---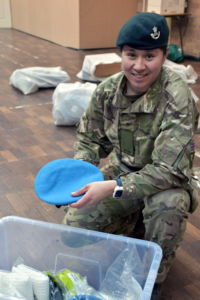 Swindon-based Army Reservist Carla Huynh is looking forward to deploying to Cyprus in March with 7 Rifles, the only Reservist armoured infantry battalion in the south and west.
Rifleman Huynh, a 23-year-old geology graduate who trains with B Company at the Army Reserve Centre in Church Place, has been helping to pack fellow soldiers' personal kit, including the distinctive blue beret of the United Nations
Op Tosca is the British contribution to the longstanding UN peacekeeping mission in Cyprus.
As the lead battalion in the Battle Group, 7 Rifles is sending 140 Reservists alongside 100 members of The 5th Fusiliers, who also operate from Warrior fighting vehicles as Reserve armoured infantry.
B Company is supplying 14 personnel across all ranks.
"I joined the Officers Training Corps while I was a student at Imperial College in London," said Carla. "When I came home to Swindon I decided I wanted to be an Army Reservist. After Op Tosca I'd like to try for a commission in the Regulars."
To find out more about 7 Rifles and the Army Reserve email recruiting@7Rifles.co.uk
---