---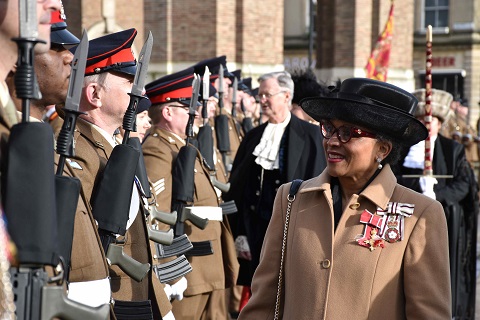 Army Reservists of 39 Signal Regiment exercising their privilege to the Freedom of the City of Bristol marched through the city centre, with 'drums beating, colours flying, and bayonets fixed' to mark the centenary of The Royal Corps of Signals.
After inspecting members of the Regiment on parade in front of the Council House, Her Majesty's Lord Lieutenant of Bristol, Peaches Golding OBE, took the salute in front of the Cenotaph as they marched past, led by The Band and Bugles of the Rifles.
They were joined by a contingent of Bristol Army Cadets, who share accommodation at Horfield Army Reserve Centre and wear the Signals cap badge, and members of the Bristol branch of the Royal Signals Regiment Association.
Major General Bill O'Leary, Deputy Commander Field Army, and the Right Honourable Lord Mayor of Bristol, Councillor Jos Clark also inspected the parade along with Brigadier John Collyer, commander 1st (UK) Signal Brigade.
For Lieutenant Colonel Vince Connelly it was the perfect send-off at the end of his two years in command of 39 Signal Regiment. He said:
"Today has been very special on a number of levels, both for the Regiment and for me personally. To march through the city and show off our local links and our personnel has really been a privilege. It's been great too that we have been able to commemorate 100 years of the Royal Signals.
"This is my last big event before I move on, two years in which we have seen the Regiment move into a new brigade and move forward with a brand new role with the Allied Rapid Reaction Corps.
"We now provide combat radio and information manoeuvre support to them as well as maintain our high-readiness Reservists for UK operations and helping out the community in a crisis. We've also got a developing cyber capability.
"All in all it's been a great occasion. We all feel six feet tall."
To find out more about 39 Signal Regiment and the Army Reserve call 01985 223725 or look for 39th Signal Regiment – The Skinners on Facebook.
---