---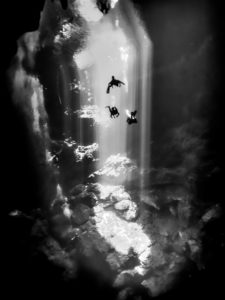 A team of Reservists from Plymouth and Cornwall have been on an advanced diving expedition, exploring the spectacular caverns of the Yucatan peninsula in Mexico.
Members of 165 Port & Maritime Regiment train for an essential role as port operators, loading and unloading a wide range of ships – from warships to civilian cargo vessels.
The Regiment is trained to operate in environments where the there is no civilian infrastructure or it has ceased to function, and can provide port facilities from beach operations or in full commercial ports.
As members of Squadrons based at Derriford in Plymouth and at Bodmin, with its detachment in Truro, they specialise in getting stores ashore where no established port facilities exist.
Overseas expeditions are part of the training undertaken by all Army Reservists. Ex Mayan Wyvern was an overseas sub-aqua dive expedition in the Mexican jungle to explore cenotes, sink holes that allow access to spectacular cave systems created by underground river systems.
The expedition was led by Staff Sergeant Jim Parry, of 232 Port Squadron at Bodmin, who said: "As we aren't qualified cave divers, we were restricted to the 'cavern' at the beginning of the cave where natural sun light is still visible. 
"Even with this restriction in place the diving is still advanced and classed as high-risk, so we required extra training.
"The diving was incredible. Visibility was far greater than anyone had ever experienced before and the rock formations were just extraordinary. Cavern diving in Mexico should be on every diver's bucket list."
165 Port & Maritime Regiment has other sub-units in Southampton and at Banbury, Oxfordshire, and Aylesbury, Buckinghamshire.
Reservists also train as mariners and marine engineers to pilot and maintain a fleet of inshore vessels, including Combat Support Boats and Mexeflote powered rafts. They work with Regular counterparts at 17 Port and Maritime Regiment (Royal Logistic Corps) at home and overseas.
165 Regiment Reservists have deployed twice in the last four years to Nicosia in Cyprus in support of the UN peacekeeping operations, and will be returning for a regimental exercise later this year.
The Regiment is constantly involved in operations and regularly sends soldiers on deployment around the world, most recently to Jordan, Canada, Germany, Norway, France and Afghanistan.
For further information on 165 Port & Maritime Regiment, go to the unit's Facebook page https://www.facebook.com/165RLC/
---