---
Design, engineering and project management consultancy Atkins has today announced that it has signed the Corporate Covenant, a voluntary pledge made by organisations that wish to demonstrate their support for the Armed Forces community.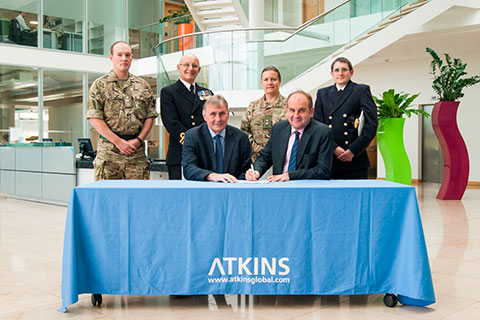 Geoff Robins, managing director of Atkins' defence, aerospace and communications business said: "As an engineering consultancy, our people are our greatest asset and Atkins has long recognised the leadership, project management and technical skills that our Reservist and ex-military personnel bring to the benefit of both the company and our clients.
"It is for this reason that we formally demonstrated our support for the Armed Forces community by signing the Corporate Covenant and why we will continue to support military initiatives such as Uniform to Work day and Armed Forces charitable activity."
The Corporate Covenant includes a core statement of commitment to two key principles: that no member of the Armed Forces community should face disadvantage compared to any other citizen; and that special treatment may be appropriate, especially for the injured or bereaved.
Atkins has pledged to actively promote the fact that it is an Armed Forces friendly organisation through its recruitment activity, to seek to support the employment of ex-service personnel through the Career Transition Partnership and, where possible, to support Cadet units in the local community or in local schools.
Philip Dunne MP, Minister for Defence Equipment Support and Technology, said: "By signing the Corporate Covenant Atkins has made a public declaration of support to the British Armed Forces. Atkins' commitment to this initiative is a clear endorsement of the continuing work by the Government to bring together the learning and expertise of industry with the skills and professionalism of our military family."
---