---
A 30-year-old Taunton man's outstanding contribution to the success of Somerset Army Cadet Force has been recognised with the award of the Lord-Lieutenant's Certificate for Meritorious Service.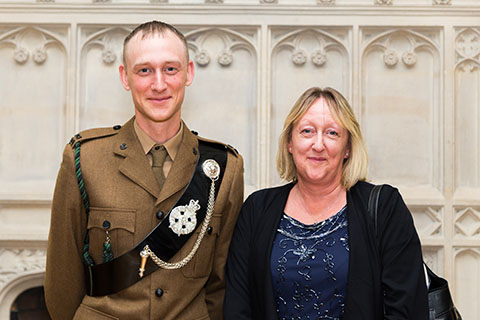 Dean Brown, Salamanca Company's Sergeant Major, became an adult instructor in 2006, not long after completing five enjoyable years as a cadet with the Ilminster Platoon.
Subsequently, he took command at Ilminster before beginning his busy schedule with Salamanca Company and its nine platoons.
Dean, who works a kitchen appliance fitter, helped train the cadet team that became national champions in the Rifles Cup, a two-day competition involving a patrol exercise and other challenges.
One of his main responsibilities involves looking after the Company's adult instructors. "Recruitment isn't easy because the instructor role requires quite a lot of commitment," he said. "Fortunately, at the moment, we are in a stronger situation than we have been for some time."
Dean says the ACF can have a tremendously positive impact on youngsters from all backgrounds. In the summer, he has twice volunteered to help run annual camps for cadets from the London area.
"Some of those kids are from very deprived areas," he said. "The two weeks they spend away with us may be the only time that anyone really cares about them and guarantees them three meals a day as well as comfortable accommodation.
"To see the look on their faces when they tackle the sort of challenges that wouldn't be available to youngsters elsewhere makes it all worthwhile."
Dean received his award from the Lord Lieutenant, Mrs Annie Maw, during ceremonies at the Bishop's Palace in Wells.
The Certificate for Meritorious Service was also awarded to two more officers from the Salamanca Company – Lieutenant Barry Gates, the Training Officer; and Lieutenant Robert Wing, who has also commanded the Portishead platoon.
---