---
The 34-year-old managing director of a Swindon electrical safety inspection company has been awarded the Lord Lieutenant of Wiltshire's Certificate for his outstanding contribution to the town's Army Cadet Force.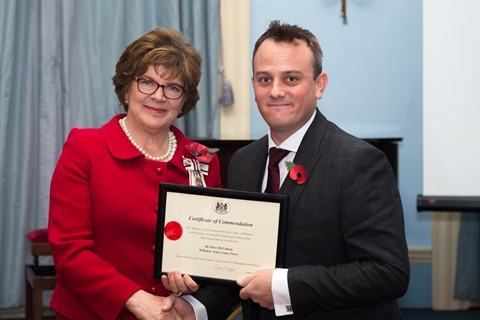 Second Lieutenant Peter McCallum was no stranger to the Church Place Detachment when he took command there two and half years ago after a stint as an adult instructor at the Royal Wootton Bassett unit. Back in 1994, he was himself a Church Place cadet, remaining until 2000.
"The ACF had a huge impact on me, helping me to get into university," he said. "I must admit it was a little strange coming back in and getting my feet under the desk as detachment commander. At the time, the unit was in a bit of a downward spiral, but we managed to get things moving with a variety of training programmes as well as shooting. As a result, cadet numbers quickly rose."
In fact, recruitment was so successful that the Church Place unit has now doubled in size to 80 cadets, supported by nine adult instructors, making it one of the largest community detachments in the South West. Church Place is also the base for the 20-strong Cadet Corps of Drums, who have performed at a number of events in the Swindon area.
Peter received his award award from the Lord-Lieutenant, Sarah Troughton, during ceremonies at the Town Hall, Devizes.
One of his cadets, Company Sergeant Major Tom Burgess, was among a select group of young people appointed as Lord Lieutenant's Cadets for the coming year.
Also awarded the Certificate for Meritorious Service were:
Captain Mark Calaz, of Devizes, Wiltshire Army Cadet Corps.
Flight Lt Susan Graham, of Andover, instructor at 1010 City of Salisbury Squadron, Air Training Corps.
Major Peter White, of Netheravon, Wiltshire ACF training officer.
---