---
A civil servant from Midsomer Norton has been honoured for her decade of service to the Army Cadet Force with the award of the Lord-Lieutenant of Somerset's Certificate for Meritorious Service.
The presentation to Staff Sergeant Instructor Kate Burge took place during ceremonies at The Bishop's Palace, Wells.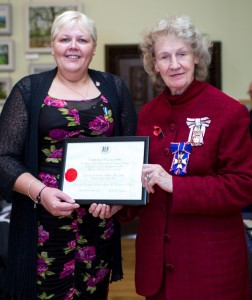 Her association with the ACF happened thanks to her daughter Michelle, then a cadet in the Midsomer Norton Platoon, part of Normandy Company. "The unit were off to camp and needed a bit of adult help. So I went along and that was the start – I have enjoyed every minute of it ever since," she explained.
Kate, who works for the Ministry of Defence at Abbey Wood, Bristol, eventually became Commander of the Midsomer Norton Platoon, which has developed into one of the largest and most successful units in the county. She is also a first aid instructor and Quartermaster Sergeant of Normandy Company.
"I just love to see cadets progressing and benefiting from all the different opportunities on offer," she added. "Some don't perhaps get on too well at school. But they come to us and learn life skills and how to be part of a team.
"The older ones call me 'Mum'. And that's what I am – a cadet Mum!"
The Certificate for Meritorious Service was also awarded to:
Major John Price, of Radstock, founder of the successful Writhlington School Combined Cadet Force.
Warrant Officer Neil Usher, aged 39, of Midsomer Norton, a Warrant Officer in 1955 (City of Wells) Squadron, Air Training Corps.
---