---
A 54-year-old Royal Navy officer from Ivybridge has been honoured for his work at HMS VIVID, the Plymouth-based Royal Naval Reserve unit, with the award of HM Lord-Lieutenant of Devon's Certificate for Meritorious Service.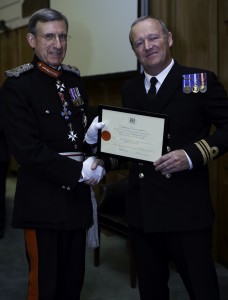 The presentation to Lieutenant Commander Graham Bennett took place during ceremonies at County Hall, Exeter.
Graham joined HMS VIVID in 2012 after 33 years' Royal Navy service in which he travelled "just about everywhere except the west coast of South America."
He is now VIVID's Staff Officer, where recruitment is currently a key issue as there is a target to increase numbers to 155 over the next few months. "The response from potential ratings has been particularly good but attracting new officers is less straightforward," he said.
"It is an area that hopefully will be of interest to former Regular service personnel who perhaps are not ready to hang up their sea boots just yet. The Navy will have paid a lot of money to train them over the years and so their experience would be invaluable to us.
"There are many varied and exciting opportunities in the Royal Naval Reserves – right now, for example, we have people in Australia, Bahrain, Dubai and Afghanistan."
The Lord-Lieutenant of Devon's Certificate for Meritorious Service was also awarded to:
Captain Edward Pell, aged 35, of South Brent, who serves in D (Royal Devon Yeomanry) Squadron, The Royal Wessex Yeomanry.
The ceremonies included the appointment of young people as the Lord-Lieutenant's Cadets for the next year, a role which includes attendance at a number of official engagements. They were chosen on their merits within their respective Cadet forces, but also for their dedication and work within the local community. The line-up includes:
Floyd Jones, aged 18, of Plymouth, Cadet Sergeant in 2309 Squadron, University of Plymouth Air Training Corps.
---