---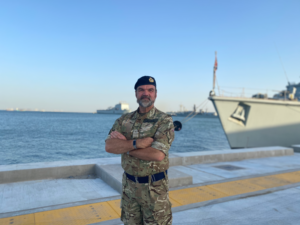 A Babcock employee and Reservist is celebrating this year's Reserves Day from the Gulf.           
Richard Greenacre is a member of the Royal Naval Reserve and will be spending Reserves Day deployed with the UK Maritime Component Command (UKMCC) headquarters in Bahrain.        
Richard, who joined as a Software Engineer at Babcock in 2004, said: "I joined the Reserves many years ago now, for the challenge, the opportunity to improve myself but mainly for the chance to make a difference."
Reservists are members of the UK Armed Forces, and can be mobilised to serve on operations around the world. Reserves Day, formerly known as 'Wear Your Uniform to Work Day', is being celebrated by a number of Reservists from the Royal Navy, British Army and Royal Air Force.  
Throughout his 39 year career in the Naval Reserves, Richard has served on eleven ships and has been mobilised four times around the world. He has also recently been nominated for Plymouth's Reservist of the Year Award. 
"Being in the Reserves has helped my civilian career in many ways. First there are the experiences that have helped inform my role when working for a major UK defence contractor. I have a much better appreciation of the needs of the service, which means my work at Babcock is that much more focussed and effective.
"Then there are the soft skills such as team-working within a diverse environment, effective decision making and personnel management, to name but a few."
On completion of his deployment, Richard will be returning to Babcock and will continue serving in his spare time at HMS VIVID, the Royal Naval Reserve Unit in Plymouth. 
---