---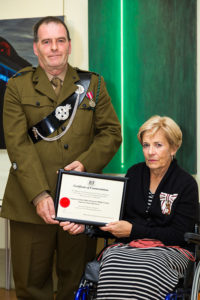 A Bath man's dedicated service to the Army Cadet Force has been recognised with the award of the Lord-Lieutenant of Somerset's Certificate for Meritorious Service.
Warrant Officer Philip Coward owes his ACF introduction to encouragement from daughters Stacie and Samatha, who at the time were cadets in the Paulton platoon.
Very rapidly, he rose through the ranks to a point where he is now Sergeant Major of the Normandy Company, comprising eight platoons, as well as commanding the Paulton unit.
Philip is qualified to run a range of activities, including weapon training, field exercises and archery as well as having responsibility for company discipline and leadership. And he has helped raised thousands of pounds for a variety of charities.
Philip received his award from the Lord Lieutenant, Mrs Annie Maw, during ceremonies organised by Wessex Reserve Forces & Cadets Association at the Bishop's Palace in Wells. Others to receive Certificates were:
Lieutenant Simon Vokes, for outstanding work within the Sea Cadet Corps. He led the Yeovil unit for more than 12 years before taking command at Glastonbury & Street, a round trip of 35 miles at least twice a week and has been Assistant District Officer since early 2017. He instructs in First Aid and Rigging and Ropework and, as Area Staff Officer, is the SCC's regional expert on Leadership and Development.
Lieutenant Robert Wing, for his tireless work with for young people of Portishead & Burnham on Sea as commander of the Army Cadets' detachment. The former Regular soldier gained his ACF commission in 2014 and has built the Portishead platoon into a model unit, with strong community ties through the police, the Royal British Legion and the Lions Club.
Chief Petty Officer Jeremy Fear, for his unstinting dedication to the Sea Cadet Corps and his leadership of the unit in Burnham on Sea & Highbridge. With more than 32 years' experience and knowledge as a uniformed instructor, he has been an invaluable mentor for cadets and younger adult staff. He is a skilled power boat and safety boat driver and piping instructor.
Company Sergeant Major Dean Brown, who became an adult instructor to Army Cadets in 2006 after five years as a cadet. He was commander at Ilminster and now has a busy role as CSM with Salamanca Company and its nine platoons. He helped train the cadet team that became national champions in the Rifles Cup, a two-day competition involving a patrol exercise and other challenges.
Warrant Officer Alison Tolson, Officer Commanding at 914 Squadron, Glastonbury & Street, for outstanding leadership and inspiration to the county's Air Cadets. She stepped in temporarily at Castle Cary & Wincanton to help rebuild morale and energy after the sub-unit had reached crisis point owing to falling cadet numbers and a shortage of instructors. It is now recovering and building solid foundations for the future.
Warrant Officer Alexander Wilson, a former Air Cadet who became an adult volunteer in the ATC in 2001. He has since played a leading role in establishing 2494 (Portishead) Squadron as a thriving unit, whose parade strength has risen to 50. He also provides adventurous training to both adult volunteers and cadets across the Bristol & Somerset Wing of the ATC.
Flight Sergeant Clare Clarke, for her sustained contribution over more than 10 years to the Air Training Corps in and around Bath, both at HQ Squadron and at the Detached Flight based at Azimghur Barracks, Colerne. She has raised cadet numbers there from a handful to more than 20.
Mrs Rose Buttle, Administrative Officer with Wessex Reserve Forces & Cadets Association for her outstanding service to the RFCA's membership and to the Reserve and Cadet units the RFCA supports. She also undertakes other tasks on behalf of external headquarters and the wider RFCA membership, from organising selection boards on behalf of Army HQ South West to advertising vacant posts for the Army Cadet Forces across the South West.
---