---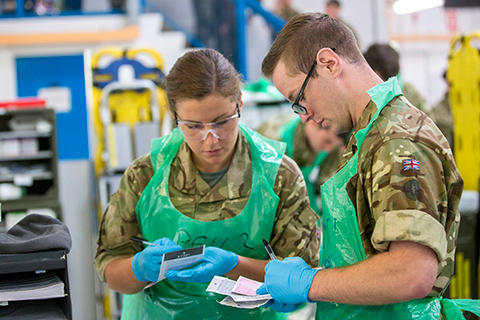 An emergency department nurse from Bath's Royal United Hospital is ready and willing to deploy again as an Army Reserve medic with 243 Field Hospital.
Sergeant Joe Molloy was one of nearly 100 Reservists involved in a mass casualty scenario staged at the Army Medical Services Training Centre in Yorkshire, to test the operational readiness of the Keynsham-based unit.
Over the next year, 243 Field Hospital could be deployed at short notice to tackle a military or humanitarian emergency anywhere in the world.
Joe is only 30 but has more than a decade's experience with the Army Reserve Medical Service, including two tours of duty overseas.
He said: "I've been to Afghanistan on Operation Herrick and also to Sierra Leone on Operation Gritrock working with ebola patients."
Many Reservists are employed within NHS Trusts around the region and have used their military training and experience to bring back to their day jobs specialist skills in trauma care.
Joe said: "I get better trauma experience from my training with the Reserves – things I wouldn't see in my hospital on a day-to-day basis."
The standby role falls to 243 Field Hospital on rotation every five years. It is four years since nearly 50 Reservists from 243 Field Hospital returned from Camp Bastion in Afghanistan where they had been mobilised as part of Op Herrick 17A.
Along with US Army colleagues, they took responsibility for a fully-functioning hospital, complete with emergency department, operating theatres, wards, X-ray and pathology laboratories.
243 Field Hospital's training is normally carried out within each of the detachments around the region – at its Bristol HQ, and also at Army Reserve Centres in Gloucester, Exeter, Plymouth, Truro and Portsmouth.
For more information about 243 Field Hospital call 0117 986 3571 or to find out about opportunities in the Army Reserve visit www.army.mod.uk/join/20237.aspx .
---