---
Army Reservists in Somerset have made a rapid and successful transfer from an infantry role to the noisy and spectacular world of military flying.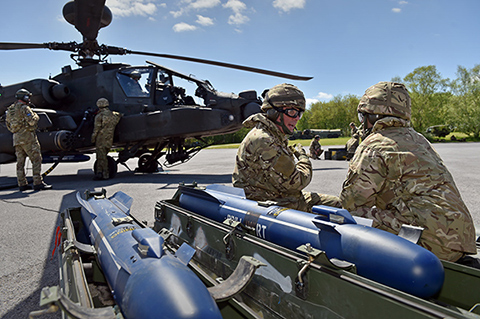 It's just a year since soldiers from the Taunton-based former B Company, 6 Rifles – including South African-born Air Trooper Alex Douglas, aged 24, of Bridgwater – changed to the light blue beret and distinctive "winged" cap badge of 675 (The Rifles) Squadron, Army Air Corps.
Proudly, the Squadron became the only Reserve unit dedicated to providing ground support for the Army's fleet of attack helicopters and tested their new skills during a recent training weekend on Salisbury Plain.
Training took place at Carters Strip, Bulford, and involved practising uploading drills – arming as well as refuelling – on Apache helicopters. It was also a key exercise for the Squadron's communications specialists in establishing secure links between ground crew and pilots.
For Alex, a member of the refuelling team, it was just one more experience in a whirlwind, five-year Army Reserve (formerly Territorial Army) career.
At one stage, he thought of applying to join the Regular Army. But he could hardly have had a more varied and challenging as a Reservist, having already served in Afghanistan, America, Canada, Germany and the Netherlands. "In one six-month period last year, I was with the Army in four different countries," he said.
"My civilian job in office administration involves spending my days sitting at a computer. So this is the ideal contrast."
675 Squadron also has a Flight (equivalent to an infantry platoon) training at RNAS Yeovilton, which will move into the old TA Centre in Yeovil later this year following major refurbishment of the building.
Recruitment has been successful so far, almost doubling from a starting point of 44 – and with an eventual target of 100.
Taunton's Army Reserve Centre has experienced many role changes since its opening in 1957. In the early days, it housed a unit of The Royal Corps of Transport, which became 6th Battalion The Light Infantry; then The RIFLES Volunteers; and, in 2007, B Company, 6th Battalion, The RIFLES.
A package of financial and other support is available to all employers to help them accommodate absences and minimise the impact on their business. Additional financial help is available for SMEs, recognising the greater impact that absences can have on smaller companies.
For more information about 675 Squadron call 01823 354570 or to find out about wider opportunities in the Army Reserve visit http://www.army.mod.uk/aviation/30333.aspx .
Information on support for employers can be found at: www.sabre.mod.uk/Employers/The-Mobilisation-process/Financial-assistance
---