---
More than 160 Bristol Army Cadets have been testing their 'green' skills and making the most of opportunities for adventurous training on a successful annual camp on Dartmoor.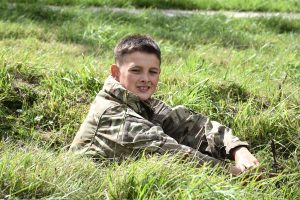 None of this would have been possible, of course, without the help and encouragement of 60 adult instructors, led by Colonel Hector Stamboulieh, Commandant of the City and County of Bristol Army Cadet Force.
The adventurous training has included climbing, mountain biking and hill walking while the Cadets' normal 'green' training has covered expeditions, navigation, weapons training on the range and other fieldcraft.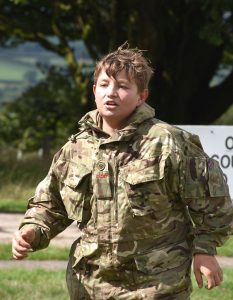 It was the fourth annual camp that Colonel Stamboulieh has organised and supervised. Next year's camp at Altcar in Lancashire will be the last before he hands over command after a five-year tenure.
He was in his school's Combined Cadet Force in the 1970s, under the badge of the Royal Gloucestershire Hussars, and then spent four years with East Midlands University Officer Training Corps before joining the ACF in 1989.
As in-house counsel for an insurance company, he believes his legal training allows him to understand conflicting opinions when faced with the issues a commandant has to deal with, often on a daily basis. Effective teamwork is usually the solution.
He added: "There is a lot of admin and a few 'headaches', as you'd get with any large organisation but there are lots of little things that make up for all that.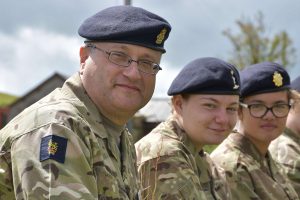 "It could be seeing a 17-year-old cadet who you've known for many years, first as a quiet, shy 12-year-old, and now they're confident, able to express an opinion, but courteous, hard-working, wanting to do better in life, wanting to reach their true potential – and seeing a way of getting there."
He sees his role and that of his fellow adult instructors as giving children more options in life than they would have done had they not joined the Cadets.
"When you see that you have actually made a difference, it does give you a good feeling. A lot of instructors do it for that reason."
Working with Cadets can also change the lives of the adults, he points out. And that is true for an ex-Regular or a Reservist as well as ordinary civilians – mums, dads and others who have just walked in off the street.
Colonel Stamboulieh explained: "They all have some sort of talent, even it's just the ability to listen. It could be a skill they have acquired already, such as being a canoe instructor. The common thread is that they enjoy working with children and helping them develop to achieve their true potential.
"The easy bit for me is talking to people. Of course, you should be listening before you speak!
"The difficult bit for me is when a Cadet – or even an adult instructor – is struggling with something in their lives and, whatever we do, we cannot fix it.
"I also find it hard to be patient with people who criticise us without seeing what we do. However, if they have taken the trouble to learn about the Army Cadets, then they're perfectly entitled to their opinion. But if they just make certain stereotypical assumptions and abuse us – and the Cadets – then I have difficulties with that."
Some 330 Bristol Army Cadets are organised through 16 detachments across the city, supported by 100 adults, including officers. For more information about volunteering as an adult instructor with Bristol Army Cadets, call 0117 986 3344 or email wx-bri-ao2@rfca.org.uk.
---