---
Paul Clark (52) from Henbury in Bristol has won the Online category in this year's prestigious British Army Photographic Competition.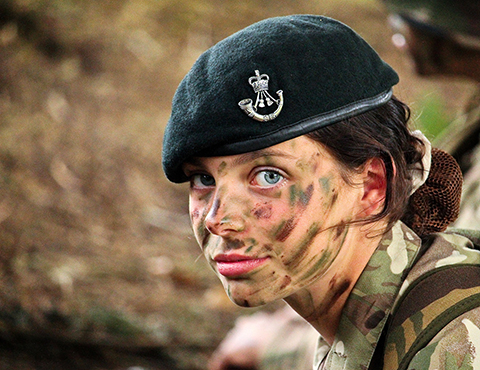 The British Army Photographic Competition has been running for more than 20 years and one of this year's categories was to allow members of the public to vote for their favourite image via the Army's social media platforms.
Paul or 'Nobby' a civilian driver is also an Army Cadet Force (ACF) Volunteer Instructor based at the Stoke Gifford Detachment in Bristol. A former soldier with the Royal Artillery, he hails from Manchester but has lived in Bristol for more than 30 years.
His winning shot 'The Rifles' was photographed in August this year during the ACF's Annual Camp at Penally Training Camp, Tenby, Pembrokeshire, and portrays Cadet Corporal Brooke Collins from the Bridlington Detachment.
Nobby captured the image during a training exercise but hadn't intended to use it until a colleague highlighted the competition to him. He says it was very much "a last minute entry".
On winning the category he said: "I can't believe I've won, this is the first photo competition I've ever entered, I'm totally gobsmacked, I was more than happy to have been nominated and reach the final 12.
"This has been a team effort; I'm really pleased for Bristol ACF and for the cadet, Brooke"
This year has seen the largest haul of entries with 780 images and 52 videos.
Command Master Photographer, Army Media & Communications, Warrant Officer Class 1 Will Craig said: "I have been running the Army Photographic Competition for the last four years and this year has seen the highest amount of entries ever, the images have really been captured the judge's attention as well as the public having a sneak preview seeing the online category.
"I hope everyone will enjoy the images and if you haven't won, then there is an opportunity to enter next year's Army Photographic Competition".
Nobby was presented with his prize by Chief of the General Staff General Sir Nicholas Carter at a ceremony held at the prestigious Imperial War Museum, London, today (25 Oct), where a display of the winning images is being hosted.
---