---
One hundred years ago – on 21 August 1917 – a Bristol University student displayed such 'gallantry in the face of the enemy' that it merited the award of the Victoria Cross, the nation's highest honour.
Sadly, it was a posthumous decoration for 20-year-old Hardy Falconer Parsons, Temporary 2nd Lieutenant of the 14th (West of England) 'Bantam' Battalion of the Gloucestershire Regiment.
He had single-handedly repelled a German night-time raid on a bombing post he commanded near the village of Epehy on the Somme but died of his wounds. He was buried at Villers-Faucon Cemetery, north-east of Peronne.
He was an unlikely war hero, a young man of diminutive stature who was described by his friends as 'a refined, gentle spirit' to whom 'the idea of war was utterly repellent'. He saw his vocation as a medical missionary but, like so many of his generation, believed it was his duty to serve.
In November of that year, King George V visited Bristol and, in a ceremony on Durdham Downs, presented the medal to Parsons' father, the Rev James Ash Parsons, Minister of St Paul's Wesleyan Chapel, in Old King Street, Bristol.
Parsons' Victoria Cross is displayed at the Soldiers of Gloucestershire Museum, Gloucester, although there is a replica in the Bristol University Officer Training Corps' (BUOTC) mess at the Army Reserve Centre, Whiteladies Road, Bristol. BUOTC includes students from Bath University and the University of the West of England.
Major Andy Morris, Second-in-Command at Bristol University Officer Training Corps, said: "Although it was 100 years ago that Hardy Parsons won his VC, it is a story that firmly resonates with our current crop of Officer Cadets. 
"The world is a very different place now but they thoroughly recognise the selfless commitment he displayed in sacrificing both his medical studies and ultimately his life.  Many of our Officer Cadets will go on to serve in the either the Regular or Reserve forces inspired by acts of gallantry displayed by Hardy Falconer Parsons and thousands of others."
Parsons is honoured to this day in several locations where he spent his short life.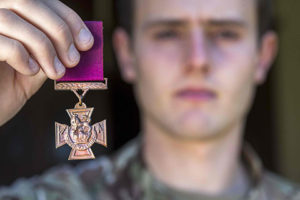 At Bristol University: He served in the University's Officer Training Corps before enlisting at the Artillery Grounds, Whiteladies Road, Bristol. His name appears on the war memorial in the University's Wills Building.
At the Artillery Grounds: The young student joined the Glosters' 14th Battalion, a so-called Bantams battalion as it comprised men whose height was below the minimum Army regulation of 5ft 3ins. There is a Falconer Parsons VC mess at the Army Reserve Centre, with a picture of Parsons and a replica of the VC.
At Kingswood School, Bath: Parsons was a pupil there after his family moved to Bristol from Westmorland. The school chapel on Lansdown Hill has a memorial brass plaque to his memory and he is among a roll of 116 former pupils – and three staff – who fell in the Great War. They include a younger brother, Ewart Moulton Parsons, who joined the RAF and was killed in 1918 in a flying accident at Eastbourne. Like his brother, he was just 20.
At the Soldiers of Gloucestershire Museum, Gloucester: Parsons' war medals, including his Victoria Cross, are displayed in the museum.
Bristol University Officer Training Corps (BUOTC) is part of the Army Reserve and offers students with opportunities to challenge themselves in military exercises, adventurous training, community projects and expeditions both in the UK and overseas.
BUOTC recruits from three major universities – Bristol, Bath and the University of the West of England (UWE). Find out more here http://www.army.mod.uk/UOTC/30756.aspx.
---