---
Young people from Cadet Forces across the South West have had the opportunity to take part in the 100th anniversary of the International Four Day Marches Nijmegen, and were awarded the special anniversary addition of the Four Day Cross on completion.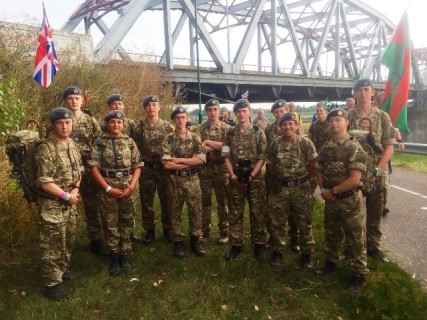 Cadets took on the 100 mile challenge in teams, covering distances of 25 miles (40km) each day over four consecutive days, around the Dutch town of Nijmegen.
All of the Cadets that took part, marched in uniform as part of the British Military Contingent which is also made up of Regular and Reserve personnel. Cadets stayed at at the specially constructed Camp Heumensoord just outside the town of Nijmegen, along with military personnel from around the world.
The first Four Day Marches took place in 1909 and since this time it has grown into the largest multi-day walking event in the world.
Depending on age and gender participants of the event will walk 75, 100 or 125 miles. Cadets take part in the military route of 25 miles (40km) per day.
This year the Cadets were among over 42,000 people who completed the event which started on Tuesday 19th July and finished on Friday 22nd July.
To find out more about how you could be part of the exciting activities the Cadet Forces offer young people and adults, visit www.wessex-rfca.org.uk.
---