---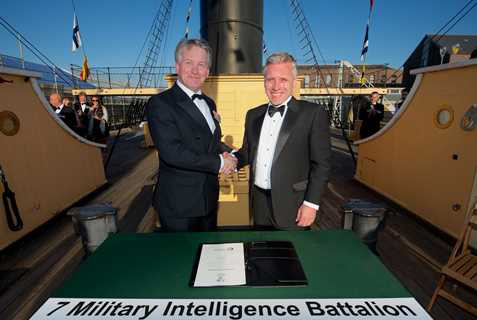 Army military intelligence Reservists gathered on the deck of the SS Great Britain in Bristol to witness the signing of the Armed Forces Covenant by leading information technology provider Centerprise International.
The Covenant commits the company to upholding its principles by supporting the Armed Forces community. In particular, it recognises the value that serving Regular and Reserve personnel, cadets, veterans and military families bring to Centerprise and the nation.
Centerprise chief executive officer Jeremy Nash signed the Covenant on behalf of the company, witnessed by Major General James Hockenhull OBE, Colonel Commandant of the Intelligence Corps.
Jeremy is himself a former RAF officer, having reached the rank of Wing Commander.
It was also an occasion of celebration for the Intelligence Corps Reserve, marking 50 years since its founding with a series of presentations followed by a jubilee dinner on board Isambard Kingdom Brunel's historic ship.
Lieutenant-Colonel Mel Green, commanding officer of 7th Military Intelligence Battalion, a newly-formed Army Reserve unit which has its headquarters in Bristol, hosted the dinner. The event included presentations by key figures within the IT and cyber security industry.
He said: "The Battalion is indebted to the insight provided by industry, especially from Dr Andrew Monaghan (Director of Research on Russia and Northern Europe Defence and Security at the Changing Character of War research programme, Oxford University) and Conrad Prince (UK Cyber Security Ambassador).
"The dinner was a superb affair expertly hosted by the staff of the SS Great Britain. I would like to thank all our Reservists' employers who attended as they are vital to the continuing relationship with 7 MI Battalion."
"They include BAE Systems, Fastnet Estates Ltd, Lockheed Martin, Bovis Homes, GWS, Lionhead Consulting and the Military Preparation College. A special thank you goes to Centerprise International, without whose help and support this event would not have been possible."
7th Military Intelligence Battalion covers a large area of the South and West of England, with sub-units stretching from Newbury to Exeter and from Southampton to South Wales.
Centerprise has its headquarters in Basingstoke with other business operations in London and South Wales. It has built its reputation over 30 years delivering large-scale IT projects for business, defence, education, government and healthcare clients.
---