---
Army Cadets from Christchurch are all set to help members of their community most in need next week as they take part in the National Army Cadet Force Community Week Event.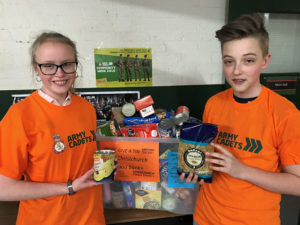 To celebrate the Army Cadets 'Community Week' (23-29 April) cadets from Christchurch Detachment, Dorset Army Cadet Force (ACF) are organising a special collection of food items in aid of the Christchurch Food Bank.
They are currently collecting tinned and packet goods at their Detachment and will be taking it along to the Christchurch Food Bank at St Joseph's Church in Purewell on Monday 23rd April where they will help sort it into food parcels.
2Lt Thor Elsson; the Detachment Commander for Christchurch said; "The idea to help the local food bank came from the Cadets themselves. They've been very proactive in donating things to take with us and are really looking forward to making a positive contribution to the work of the food bank."
He added; "The last 12 months have been one of our busiest ever in supporting charities, helping out in the local community and taking part in ceremonial activities."
"During the year, our cadets have; organised a bake sales to raise money for the Lord Dannatt Round Great Britain Sailing Challenge; supported fundraising for Autism Wessex and the Royal British Legion Poppy Appeal; and helped out at the local Marathon Festival, the Bournemouth 10mile Run and at the Mudeford RNLI Funday.
Our cadets also spent a huge amount of time in preparing for and taking part in ceremonial activities to help honour the bravery and commitment of the Armed Forces including taking part in the prestigious Rifles Regiment Freedom of Christchurch Parade and the Royal British Legion Remembrance Parade. This year they will once again be taking part in the Burton Armed Forces and Veterans Day on the 10th June
"The Army Cadet Force (ACF) is all about action, adventure, fun and friendship," continues County Commandant; Colonel Dick Taylor "but we also enjoy doing our bit for the community. All our cadets get involved in community activities as part of their training and their 'Cadet and the Community' activities also help them in working towards a Duke of Edinburgh's Award.
To help give more young people the chance to take part in cadet activities Dorset ACF is looking for more adults to join us as instructors. Colonel Taylor added "No previous military experience or high levels of fitness are needed. What's important is common sense, drive and determination and the ability to communicate with young people."
---