---
Captain Tony Smith, Officer Commanding of the Isles of Scilly Army Cadet Force Platoon, was recently presented with one of the 43 (Wessex) Brigade commemorative medallions by his Cadets. Captain Smith had been too unwell to attend the County Training weekend at RAF St Mawgan in December.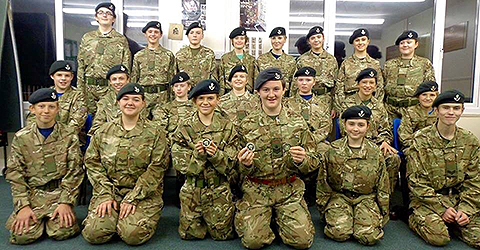 The Medallion was awarded by Colonel Les Donnithorne, Cornwall ACF Commandant, in recognition for his services to the Army Cadets. The medallions commemorated the changing of Regional Point of Command from HQ 43 (Wessex) Brigade to HQ 1 Artillery Brigade.
Two Cadets from the Isles of Scilly were also presented with this Wessex Medallion by Colonel Donnithorne. These were; Army Cadet Colour Serjeant Andy Brogan for his devoted help and service to the Army Cadets; and Army Cadet Corey Graham, being the youngest Cadet on Parade at the time of the awarding of these Special Medallions.
Captain Tony Smith said that he is "very proud of them all. Every time they go away they are Ambassadors for the islands. They always stand out as very polite and confident young people, and they all look after each other, and are a credit to us all."
The Skybus that serves the island now scheduals an extra two flights when the Cadets from one of the most remote Army Cadet units in the country, need to attend on the mainland for training events. This means that 22 members of the 26 strong platoon are able to travel over to the mainland at the same time.
---