---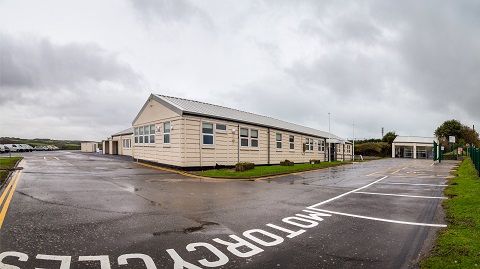 Army Cadets in Cornwall are soon to have access to a new County Training Centre (CTC), 10 years after the closure of Penhale Camp left them without a centre for their major training activities.
With nearly £1 million in public funds invested in repurposing and modernising the self-contained former MoD site next to RAF St Mawgan, the centre will provide overnight accommodation for over 100 cadets and adult volunteers.
Wessex Reserve Forces' and Cadets' Association (RFCA) has coordinated the scheme's public financing as well as managing the design and construction of the project.
As well as multi-purpose rooms, offices, stores, a fully equipped kitchen and a dining room that doubles as a large classroom, the buildings include a wet room and other easy-access facilities for any youngsters or cadet instructors with disabilities.
Nicola Johns, Head of Estates at Wessex RFCA, said that the RFCA's approach in accommodating the needs of cadets with disabilities was to go further than just fulfilling the legal requirements. 
She said: "We want to make disabled and trans-gender cadets and adult volunteers comfortable and welcome so that they feel part of the group, and not in any way isolated."
A grassed area above the centre offers a safe and secure space for camping, which will be attractive to community groups and clubs who wish to hire the venue when it is not needed by the Army Cadet Force (ACF) or the wider military.
She added: "The Centre will be available for hire by other organisations in the military family – and also in the civilian community through our 'Alternative Venues' hiring scheme."
The Army Cadets is a youth organisation sponsored by the Army, so Colonel Andrew Dawes, Commander South West, has been closely involved in the project.
He said: "It's coming together nicely, with all the facilities that enable us to have a free-standing, self-sustaining centre here.
"This has been on our radar for a while. The people of Cornwall have been patiently waiting for this, so it's great to be able to put it in place. It's taken a lot of hard work from myself and Wessex RFCA specifically, the Ministry of Defence and the Defence Infrastructure Organisation, not to mention the contractors, InterCity Build UK."
He added: "A facility like this doesn't come cheap – we all knew that. But given that the cadets have gone ten years without it, this is good value for money, especially when you look at the flexibility of accommodation and the outdoor space as well.
"All we need now is to have young people here to breathe life into the place."
---