---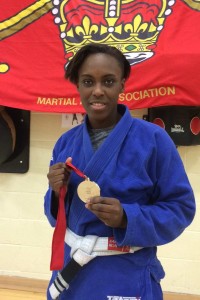 Life has moved at lightning speed for 25-year-old schoolteacher Denice Webb, of Bournemouth, since she joined the Army Reserve by signing on with Dorchester-based C Company, 6 RIFLES.
Two days after the Tuesday parade night when she was attested – the formal Army legal process under which she became Private Webb – Denice received a telephone call from her unit, who knew about her prowess in martial arts.
Just 48 hours after that, she reported ready for action at the Army Martial Arts Association Championships, where the very newest of new recruits met with immediate success – a middleweight silver medal in the Brazilian jiu-jitsu event.
Denice, originally from Coventry, moved to Bournemouth 18 months ago to teach at Somerford Primary School, Christchurch.
She has always been an active type, enjoying kick-boxing as a youngster as well as the Thai combat sport of Muay Thai boxing. Once in Bournemouth, she joined the Gary Baker Martial Art Academy, concentrating on jiu-jitsu, the Japanese system of unarmed combat that evolved from self-defence techniques and has similarities with judo.
Within a few months, she was competing in major events – winning gold at the Bournemouth Open Championships, bronze medals in an international open event at Crystal Palace and at the English Open Championships.
Why join the Army? "It's something I have seriously considered for some time, but put it off on a couple of occasions in order to complete my university studies and teaching qualifications," she said.
"I am still interested in the Regular Army as a potential move in the future. But for the time being I'm happy to enjoy the best of both worlds.
"I want to qualify as a combat medic. And I really look forward to some of the adventurous training the Army do. Climbing, running – anything really physical will suit me!"
Army life will not prevent Denice, all super-fit 67 kilos of her, continuing a quest for jiu-jitsu success. An ambition is to qualify for the European Championships next year.
The Army silver medal was a nice bonus. "I'd been training hard for three months before the competition and so, although I had very short notice, I was ready to compete," she added.
For more information about C Company, 6 RIFLES, call 01305 251119. For general information about being an Army Reservist with 6 RIFLES visit http://www.army.mod.uk/infantry/regiments/26607.aspx or call 0345 600 8080.
---