---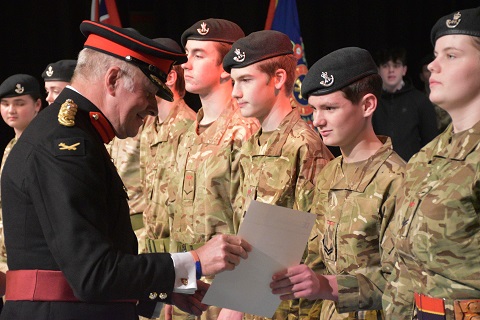 Army Cadets from all over Devon have been celebrating a year of success and achievement with their inspiring adult instructors at an awards evening held at ISCA Academy in Exeter.
Proud parents and families were there as 40 cadets were recognised for a wide variety of achievements – promotions and Red Star awards within the Army Proficiency Certificate syllabus, BTEC and Institute of Leadership & Management qualifications and bronze and silver awards under the Duke of Edinburgh's Award Scheme.
There were promotions to be celebrated by the adults too, as well as recognition for those who had achieved clasps to their Cadet Force Medals, marking consistent long service to the Army Cadets.
Lieutenant Colonel Leigh Skelton, Commandant of Devon ACF, presented Staff Serjeant Instructor Becky Hine with a Royal Humane Society Certificate for her 'humanity, promptitude and skill' in resuscitating a man who collapsed at a bus stop in Barnstaple.
And SSI Andy McDonald, also of C Company in North Devon, won a special round of applause for running his first marathon at the age of 51, raising £1,386 for charity.
There was a special Devon ACF Association President's Award for Serjeant Instructor Jacqueline Frost for her outstanding service.
More than 130 cadets, adult instructors and guests also heard from Steve Tinlin, Briefing and Liaison Officer South and South West for the Army Benevolent Fund, on Devon ACF's fund-raising efforts for the ABF, particularly in Tiverton.
Lieutenant Colonel Skelton said: "It's an annual event for us, celebrating some very impressive young people. It's good that we have their parents here to celebrate with us.
"The awards recognise achievement on all sorts of levels and that they achieved so well reflects on the adults who collected awards. They made it happen.
"In areas like Tiverton, for instance, Cadets are absolutely embedded in the community and everything the community does. There's an exceptional leader there who knows what the community wants and makes it happen."
---