---
Volunteers from Northern Devon Healthcare NHS Trust (NDHT) recently took part in the South West NHS Military Challenge, organised by Army Reserves from 243 Field Hospital, with support from Reserve units across the South West and Wessex Reserve Forces' and Cadets' Association.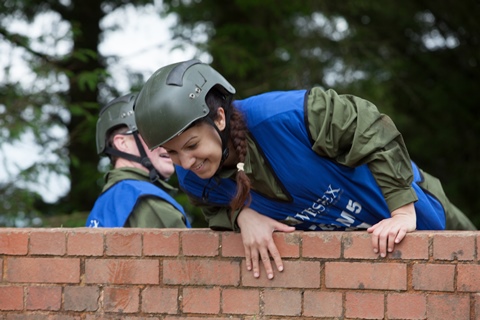 The event, which took place over the course of a weekend at Okehampton Camp on Dartmoor, was attended by over 160 volunteers from 16 NHS Hospitals across the South West.
The challenge was designed to give NHS colleagues a taste of what it takes to be a Reservist in the Army Medical Corps. The challenges tested the team physically whilst also testing skills like teamwork, self-reliance and leadership, as well as their medical knowledge.
During the weekend the NDHT team rotated around a number of stands which were all run by South West based Reserve units. One stand, run by Reserves from 243 Field Hospital, tested how the teams cared for casualties in a simulated battlefield situation. Amputee actors were used in the simulation, which also included blank firing and smoke to help create realism.
Alison Diamond, chief executive for the Trust, who took part in the challenge, said: "The weekend demonstrated the importance of working together as a team. The Trust takes its commitment to supporting the armed forces seriously and we were awarded a bronze award from the Ministry of Defence earlier in the year for our dedication to serving, former and prospective defence personnel and their families.
"Reservists make an extremely valuable contribution to protecting the nation's security at home and overseas and we are proud of the commitment made by them."
Paul Westlake  was this year's team leader for the NDHT group. He said: "It was a brilliant weekend which I would recommend to anyone who is interested in becoming a reservist. As well as being good fun, it was a great team building exercise." 
To find out more becoming a Reservist with 243 Field Hospital visit www.army.mod.uk/medical-services.
---