---
Nick Parkyn's Army career began as a young Royal Signals soldier serving in the Falklands campaign 35 years ago.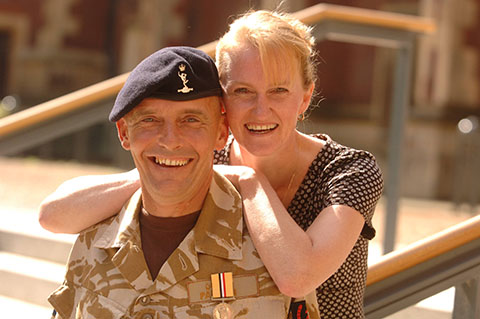 Now 56 and living in Plymouth, he is still going strong – as he proved when awarded the Lord-Lieutenant of Devon's Certificate for Meritorious Service for his outstanding contribution to the Reserves.
Nick's full-time Army career ended in 1991 but he was not out of uniform for very long.
Just six months elapsed before he joined the Territorial Army (now Army Reserve) and began service in 81 Signal Squadron, which provides fixed telecom expertise to the Ministry of Defence at a variety of worldwide locations. "I missed the camaraderie and banter of Army life," he explains.
As a BT telephone engineer – he's now an assistant manager for BT Openreach – the new role suited him perfectly.
Nick remained with 81 Squadron until two years ago, serving in Iraq. Then he transferred as a Sergeant to 254 (Specialist Group Information Services) Signal Squadron, which is based at Blandford and is part of 15th Signal Regiment.
There, once again, his technical expertise has been invaluable. But that's not all. Over the past 12 years, Nick has been a key member of BT's largely-volunteer Emergency Response Team, which is on permanent standby to respond to emergencies around the world.
Their latest challenge involved building satellite dishes that proved essential in restoring vital communication links in Caribbean islands devastated by Hurricane Irma.
Nick received his award from Her Majesty's Lord-Lieutenant, David Fursdon, during award ceremonies at Escot House, near Ottery St Mary.
Others who received awards of the Certificate of Meritorious Service were:
Staff Sergeant Ashley Jobe, for his outstanding contribution to 105 Battalion REME (Army Reserve), especially as Company Quarter Master Sergeant of 130 Field Company. He also has a demanding civilian job as a logistics manager for engineering services company Pipex in Plymouth.
David Hann, for 16 years' service to the Sea Cadet Corps at Training Ship Hermes, particularly as Tiverton Unit Committee Treasurer since 2001. Formerly a local government officer, he is an important figure within the Tiverton Museum and also served as a Special Constable.
Captain Tommy Roberts, Royal Marine Reserves Bristol, who recently co-ordinated the amalgamation of 2 Raiding Troop, RMR Bristol's landing craft unit, including equipment, stores and manpower. He was also the military lead relocating the RMR Plymouth detachment from Millbay Park to Royal Marines Tamar.
Warrant Officer 2nd Class Michael Saunders, who as Regimental Sub-Unit Support Officer for HQ Company, 6 RIFLES, is responsible for recruiting across three locations, Barnstaple, Exeter and Paignton. His professional approach, experience and dedication have helped 6 RIFLES to become one the best recruited Army Reserve units in the country.
Major Phillip Morgan, of Cullompton, for 20 years' dedicated service to the Devon Army Cadet Force. He joined as an adult instructor after a spell in the Territorial Army (now Army Reserve) and took over command of A (Exeter and East Devon) Company in 2016.
Lieutenant Elizabeth Williams, acting contingent commander of Plymouth College Combined Cadet Force, for her energy, enthusiasm and commitment in ensuring that the naval section enjoys the DofE Award scheme, a Year 10 CCF Activity week and visits to the tugs that serve warships as well as continued afloat training.
---