---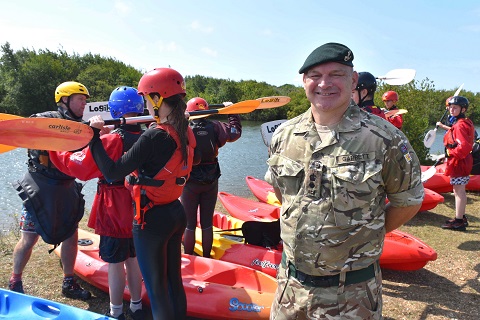 As Acting Commandant of Dorset Army Cadet Force, Lieutenant-Colonel Andy Garrett is keen to attract more people with the necessary enthusiasm and unstinting commitment to take on the role of instructors to the county's 550 cadets.
The 51-year-old self-employed carpenter from Poole points to his own experience over nearly three decades, first as a Cadet and then as a uniformed instructor.
Overseeing Dorset ACF's 2019 camp at Lydd in Kent, Andy said: "When I see the cadets arrive at camp, perhaps away from home for the first time, it takes me back to how I felt at that age.
"I remind our adults that they must always be approachable, always be there in support. It can be a daunting experience for those young people.
"But it's so satisfying to see them stretching themselves to achieve, progressing and improving. Then as senior cadets they make it a virtuous circle by acting as role models."
After joining the West Moors detachment in 1981, Andy had become a 4-star cadet in the rank of Cadet Staff Sergeant by the time he left five years later. He immediately joined the grown-ups in a Sergeant Instructor role.
He is just as motivated now as he was as a 13-year-old attending his first summer camp in 1981: "It's seeing their enthusiasm – they never fail to surprise me. I just pass on my experience and knowledge. After all, I was once them.
"If you apply yourself, you can achieve anything. Just do your best. That's all that anyone can ask of you.
"As an adult, sometimes it's about not giving up on someone. The hard option is to sit down with a cadet and take on the role of a mentor who can inspire them."
Andy's adult service began with the West Moors detachment. He was commissioned in 1991 and ran the Wimborne detachment from 1994 to 1998, being promoted to Captain.
After commanding A Company, which took in Dorchester, Portland, Weymouth and Bridport, he was given command of C Company covering Wimborne, Lytchett Mattravers and West Moors.
Although closer to home, he then took four years out to help bring up a young family before returning in 2007 to lead C Company, now in the rank of Major. From 2012 to 2018 Andy was County Training Officer and then Deputy Commandant.
Earlier this year he found himself in the Acting Commandant role after Lieutenant-Colonel Dick Taylor, also an Army Reservist, was deployed to Iraq.
Some 250 Cadets have been on camp this summer, supported by around 50 adult instructors.
Andy said: "Recruiting for adult instructors is getting better because of our higher profile but we are particularly looking for people in the north of the county, in Shaftesbury, Sherborne and Gillingham and in the Beaminster-Bridport area.
"I'm looking for a mix of people from different backgrounds – yes, an ex-Regular, a Reservist or an ex-Cadet – but also that person who has a no knowledge at all of the Army Cadets but wants a challenge, to work with young people and to inspire them.
"Hopefully, they will flourish and become a senior NCO or an officer, as I have. If anyone is interested, get in touch with our headquarters."
For more information about opportunities for cadets and adult instructors with the Army Cadets in Dorset and the Channel Islands call 01305 263954 or email wx-dor-ao@rfca.org.uk
---