---
A Dorset company, specialising in ICT system engineering, professional technical services and cyber security, has marked ten years in business by signing the Armed Forces Covenant.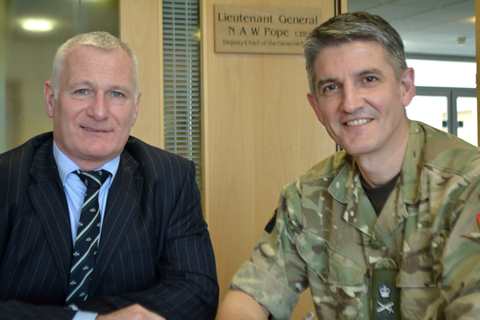 Lieutenant General Nick Pope welcomed Matt Horan, Security Director of C3IA Solutions Ltd, to Army Headquarters at Andover for a joint signing of the Covenant.
The Armed Forces Covenant is a promise from the nation that those who serve or have served, and their families, are treated fairly. The programme is promoted and delivered in the South West by Wessex RFCA.
C3IA Solutions is run by former Royal Signals officers Matt Horan and Keith Parsons, who founded the business together in 2006.  Since then the company has gone from strength to strength, based on the experience and skills that its largely ex-military workforce has for today's technical and security challenges.
"Such is the range and depth of skills and experience, I think we could field a full Royal Signals Squadron!" said Matthew.
C3IA specialises in supporting its customers in the specification, development, delivery and management of secure ICT, from individual communication systems to enterprise-wide computer networks. 
This includes making sure that these systems are designed to meet the security requirements so important in today's cyber security sensitive environment. C3IA also provides consultancy, to share its knowledge, skills and experience through workshops, research and tailored courses accredited by the Institute of Information Security Professionals.
C3IA's key customers include the Ministry of Defence, law enforcement agencies, the Home Office and other government departments, as well as industry clients in the defence and security market and, increasingly, other market sectors such as major events, transport and private security.
"Much of our success is down to the professionalism, team spirit and investment in continuous professional development of our employees and associates. This makes C3IA a great place to work and I am very proud of what we have achieved," said Matt.
When asked about the importance of the Covenant, he added: "Although C3IA is a small company, employing 60 staff, we take our corporate social responsibilities very seriously.  That means we give our full support to ex-military staff who are now on their second career and having to make a life-style transition, and to those members of the Armed Forces Reserves who work for us who need the time and flexibility to balance their commitments."
"We also support personnel that are currently serving full-time in the Armed Forces.  We sponsor events to achieve personal and team development through arduous sport and adventurous challenges.  We invest time and effort in helping to develop the skills of a future generation of technology professionals by mentoring and coaching."
For more information on the Armed Forces Covenant go to https://www.wessex-rfca.org.uk/employers/corporate-covenant/
C3IA Solutions Ltd
Tel: 01202 721123
Email: info@c3iasolutions.co.uk
---