---
Lieutenant Michelle Tolley received a third bar to her Army Cadet Force Medal during Dorset cadets' annual camp at Okehampton Camp, fitting reward for 30 years' dedicated service as a volunteer adult instructor.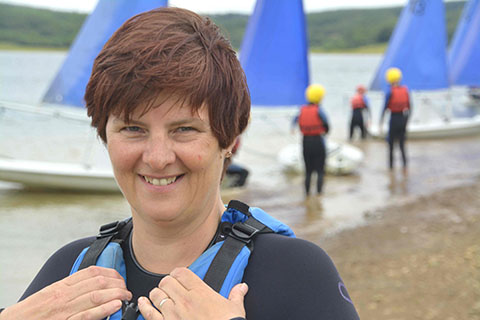 Michelle, who is second-in-command at the Beaminster detachment of A Company, reckons she has missed only five annual camps in that time.
As one of the first female cadets to be allowed in to the cadet movement in Dorset at the age of 15, Michelle was a something of a trail blazer. "A long time ago!" she laughed.
"I was in the cadets for two and a half years, left for 18 months and returned as an adult instructor."
Her daughter and son have already been Army Cadets and a younger daughter is very keen but not quite old enough yet.
Michelle lives in Chard, so has a 28-mile round trip to parade nights. She manages four out of eight every month, working around her 24-hour shifts at a home for behaviourally challenged children aged 11 to 16.
"Being here at camp is my busman's holiday!" she added. "I do a bit of everything as regards training – fieldcraft, adventure training, first aid, and map and compass, which I particularly enjoy.
"Why do I do it? You get cadets through the door at 13 years old, very shy and with very little confidence. You bring them through and you see them grow and mature into fantastic young people. That's the reward for being an adult volunteer in the cadets."
There are 24 cadets in in the Beaminster detachment, a good total in a small community in rural West Dorset.
"Staff Sergeant Vince Ealson, our detachment commander, has done a lot of hard work in the schools, giving presentations and attending open evenings to keep the numbers up," said Michelle. "He's done a brilliant job."
The county itself sent 300 cadets on this year's annual camp, supported by 80 adults.
A Company, which covers Weymouth, Portland, Dorchester and Beaminster and surrounding villages, needs more enthusiastic, self-motivated people like Michelle to help young cadets 'strive to achieve'.
To find out more information about opportunities in Dorset or your area, visit; https://www.wessex-rfca.org.uk/cadets/
---