---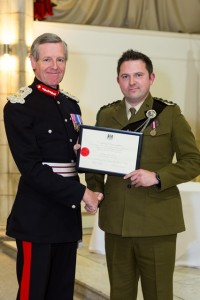 The recently-appointed Commanding Officer of Cornwall Army Cadet Force's Inkerman Company – covering seven detachments in East Cornwall – has been honoured with the Certificate for Meritorious Service.
The presentation to Captain Mark Ambrose by Her Majesty's Lord-Lieutenant of Cornwall, Colonel Edward Bolitho OBE took place during ceremonies at Truro's Great Hall.
Mark, aged 32, of Milton Abbot, near Tavistock, works in Plymouth as a full-time sports and leisure team leader and was himself an Army Cadet in Lancashire prior to moving to the South West.
He was an RAF Reservist before becoming a Serjeant-Instructor with the ACF's Penryn detachment in 2004, followed by appointment as Detachment Commander at Saltash.
Promotion to Captain occurred in 2013 and he was Second-in-Command, as well as Training Officer, of Inkerman Company, before taking charge in June.
Mark continues to train and lead cadets working for the Duke of Edinburgh's silver and gold awards.
He said: "Some who come to us around the age of 12 experience a rocky start, but through caring leadership, rather than old-fashioned discipline, we see them develop into model young citizens well capable of looking after themselves."
The Great Hall ceremonies also included the appointment of young people as the Lord-Lieutenant's Cadets for the next year, a role which includes attendance at a number of official engagements.
They were chosen on their merits within their respective Cadet forces, but also for their dedication and work within the local community.
The line-up included:
Harry Avard, aged 16, of Truro, Leading Cadet, Falmouth and Penryn Sea Cadets.
Calum Deakin, of Truro, Cadet Colour Sergeant, Redruth Detachment, Cornwall Army Cadet Force.
Christopher Yarde-Dent, aged 18, of Redruth, Cadet Warrant Officer, 77 (Redruth) Squadron, Air Training Corps.
---