---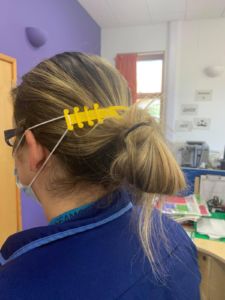 Royal Naval Reserve Engineers from HMS VIVID have used their Additive Manufacturing Facility to produce protective equipment for NHS sites in the South West.
Engineer Reservists used 3D printers in HMNB Devonport to manufacture medical visor headbands and surgical mask ear protectors to support the NHS during the COVID-19 pandemic.
The RNR's Additive Manufacturing Facility (AMF) is a standalone transportable workshop containing 3x 3D printers, which operated 24/7 over several weeks from the beginning of April. Initially the workshop provided medical visor headbands in collaboration with other agencies within Devonport Naval Base, but focus then switched to producing plastic ear protectors for use with surgical masks.
Surgical masks, when worn constantly, can become painful to wear as the elastic around the ears digs in. Ear protectors are small and easy to print but make a big difference to those who wear them. Trials involving local NHS sites received positive feedback: "It doesn't dig into my head at all and makes the mask more comfortable to wear than around my ears" said an A&E nurse involved in the trial.
A total of 112 visor headbands were printed and given to local government for sterilisation and then distribution where they were most needed and were much appreciated by the recipients at local NHS sites. The ear protectors were smaller and quicker to print, approximately 60 in a 24-hour period, and at final count 1020 were produced before printing was halted due to reduced demand.
The ear protectors were delivered to a various sites in the Plymouth area including pharmacies, dentists and ambulance stations as well as local hospitals and care homes.
One of the AMF team, Leading Engineer Technician 'Axel' Foley, said: "During this unprecedented time we really feel that the whole country is pulling together and we all owe great gratitude to all NHS and care workers and it's been a privilege to be able to do our little bit".
---